This month Sara Austin advises on how to achieve a modern take on vintage interior styling and bring something personal and unique to your home..
The month of September traditionally sees a major pace change of the year in the fashion and interior industry 
calendars. The 'September Issue' heralds 
not only the change of the seasons but also the launch of the latest trends and 
must-have items. After working in the fashion industry for almost two decades, we recently 
returned to Ireland to embrace a slower pace of life with our young family. I began to re-evaluate the fast fashion ethos and consumer behaviours learned throughout my design career. Renovating our Victorian home, we sensed a need to source our homewares more sustainably; to make more considered choices. Keen that our home would reflect our experiences and individuality, we have found that combining vintage with statement, investment pieces have been the perfect way to tell our story.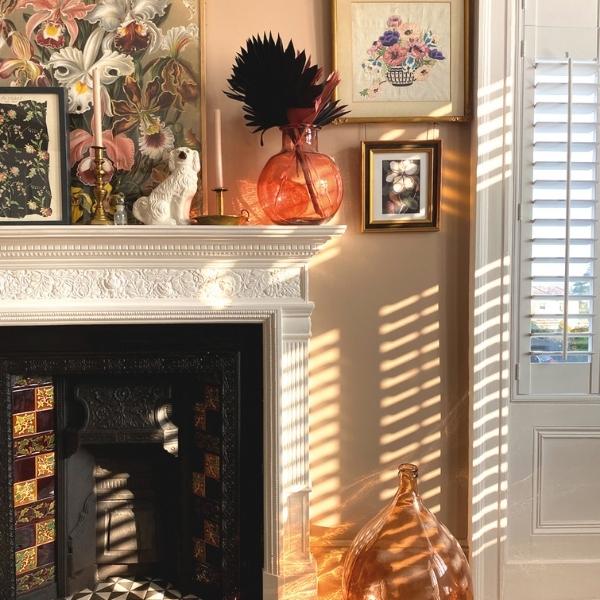 Your Home, Your Story
For many years, no one wanted antique furniture, but recently the move towards sustainability has seen us rekindle our love for vintage. In a world of identikit interiors and fast-moving trends, period furniture has begun to make its comeback. 
Whether mid-century modern or simple 
wooden chairs that you buy to paint, sourcing 
one-off antiques is a fabulous way of expressing 
your taste and personality and introducing a 
touch of vintage will always elevate your interior 
design scheme. Second-hand furniture, with its 
scuffs and marks from bygone years, has a story 
to tell. Our own vintage kitchen table, refurbished just after our children were born, is full of scratches, dents and felt tip pen stains, but we dearly love those imperfections that tell our story.
Recently I caught up with a former fashion colleague, Marie Pontefract and found that I am not alone in my love of all things vintage. These days, Marie is better known as the founder of the online vintage store, Albie & Pearl, selling across sites such as Glassette and Narchie. 'I set up Albie & Pearl as a celebration of a stylish, slower and more sustainable way of life,' says Marie. 'After working for nearly 20 years as a womenswear designer and after the birth of my second child I knew it was time for a change. We moved out of London to the coast in search of a more balanced life. I have always had a passion for home and interiors and I think antique and vintage pieces are the perfect way to bring something personal 
and unique into your home. With my background in fashion, colour and trend I work to curate joyful collections of vintage art and homewares. Albie & Pearl is a brand to champions joyful and individual home styling.'
Treasure Seeking
Technically, antique means anything over 100 years old and vintage anything over 20. If you aren't lucky enough to have inherited the family heirlooms, car boot sales and charity shops can be treasure troves, if you are prepared to look. Source abandoned unwanted objects at online auctions, antique fairs or your local salvage yard and give them a new lease of life. 
You need to be able to love surprises and think differently about what might turn up. Remember to be decisive because the 
best things always go quickly. If you fall in love with a piece, chances are you will not find another again, so don't miss out. Trends come and go, so trust your own judgement, have fun and enjoy the buzz of the find. 
Often we associate auctions with pricey antiques, beyond our price range. However, during the lockdown, the virtual auction room thrived, with many 
small dealers and house clearances taking their business online. Easy Live Auction is a great online resource where you will be able to find local auction listings. 
If you are shopping for something specific, visit your chosen hunting grounds regularly, the dealer who you have built up a good relationship with might just be able to help you source it. 
A recommended place for the source is the picturesque village of Greyabbey on the banks of Strangford Lough. Perhaps the only village in Ireland to have published its own visitor guide with a map identifying all the local antique hotspots. Stores such as The Eclectic House have a great and well-priced vintage selection, whilst The Old Courthouse is wonderfully curated and full of inspiration for styling old with new.
The Sustainable Option
Flatpack furniture is how many of us choose to furnish our homes. It is affordable, definitely accessible, but not always built to last. However, buying vintage is the green, sustainable option – you are saving that piece from landfill. Longer term, a vintage piece might prove more cost-effective, better quality and ultimately a better investment. According to the 2022 Auction Technology Group's Carbon Impact Report, 'Over one million tonnes of greenhouse gases were saved by people buying at auction instead of their new equivalent. This is the equivalent of 50 million trees growing for one year.'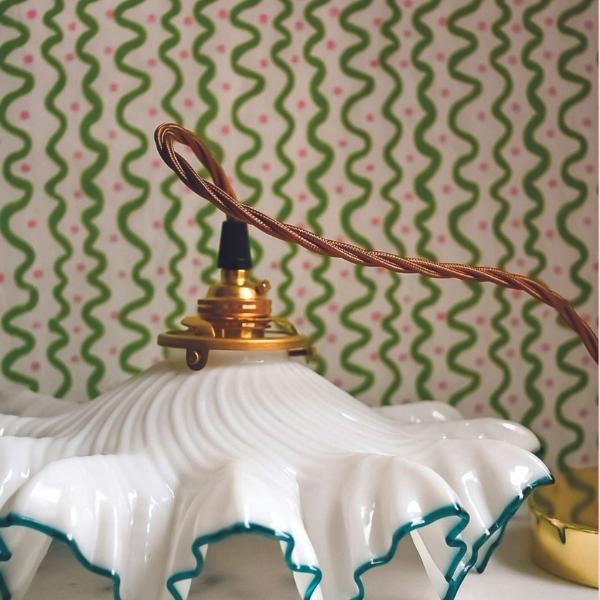 Repurposing
There is nothing more satisfying than bringing an old unloved piece of furniture back to life. This is what Irish-based upholsterer, Nicola Parkes had to say, 'Every chair has a story, which is revealed as the layers are stripped back, from old hidden fabrics, signed frames from previous upholsterers. It's easy to fall in love with a chair, whether it's granny's old favourite seat or one you are saving from landfill.' 
You can repurpose an item and create something truly unique, whether using chalk paints or simply French polish. Don't be afraid of vintage fabrics either. Remnant pieces can be used to create repurposed vintage cushions using a variety of ticking stripes or kilim rug-off cuts to bring personality to your soft furnishings.
Styling Old With New
Combining older furniture alongside newer pieces adds a cool eclectic feel to your home. Antiques will sit happily next to 
modern pieces, and a combination of old and new works best. By thoughtfully mixing old and new you give new life to old items and in doing so create a timeless interior, free of seasonal trends. 
Contemporary pieces such as Kartell ghost chairs can be juxtaposed with a vintage dresser, whilst repurposed tea crates find new life 
as bedside tables and bring texture, patina and character to an otherwise minimal space. Bold modern art can easily be combined with second-hand vintage oil paintings. If real vintage art is out of budget, companies such as Musée Home offer an ever-changing collection 
of vintage fine art prints made to look like the real thing. Etsy has a wide selection of downloadable prints to choose from and can be downloaded to print at home. A tip for framing your own vintage look art is not to use glass or a mount, having the design flow uninterrupted into the frame edge will give the illusion of a real vintage painting.
---