It's time to fragrance and elevate the spaces of your home with expert advice from UK fragrance brand Candalia.
Our homes are our havens. Uniquely designed to match our personalities to feel comfort the minute we enter through the door. There is so much we can do with our interior design, to create a safe and beautiful space. Candalia London uses the power of fragrance to elevate your home: a range of 100% natural wax candles and scented reed diffusers and room sprays, lovingly hand-made in the U.K. to become the finishing touch to your home and interiors styling. Next to furniture, lighting and décor, scents make a large difference in how we perceive a room we enter and how it makes us feel. Creating a comfortable environment with a rich warm fragrance, like Candalia's Oud Rose Candle, or freshening up the hallway so your guests feel immediately welcomed into your home, with Candalia's Pear & Freesia Diffuser, will elevate your living space subtly and mindfully. That's how it all started. Our founder, Alia Shah, is highly invested in wellbeing and self-care and wanted to create something so that everyone had the chance to bring a little wellness into their homes. She was inspired by her travels and love for interior design and created a home fragrance range to make wellness accessible and for people to create mindful moments in their homes.
Lighting a candle can have a very soothing effect, a scent dispersed through the room can unlock memories or lift the mood. Our candles are made with 100% natural wax, eliminating the dispersion of harmful carcinogens often associated with burning paraffin candles. Natural wax is a great option for candle-lovers that burn candles frequently and thus are also safe when you have children or dogs at home. Our diffusers and room sprays are alcohol-free which makes them easy to ship and transport or take with you on travels. This also means that our room sprays can be repurposed as pillow mist and are safe to spray on fabric material. Our diffusers have 20% fragrance oil and use rattan reeds, which makes them long-lasting and potent to truly elevate a room with powerful fragrances.
If you haven't had the chance to try our scents, we have an exclusive try-me offer for you.
Use code HOME20 on our website for 20% off your first order. Order online at www.candalia.uk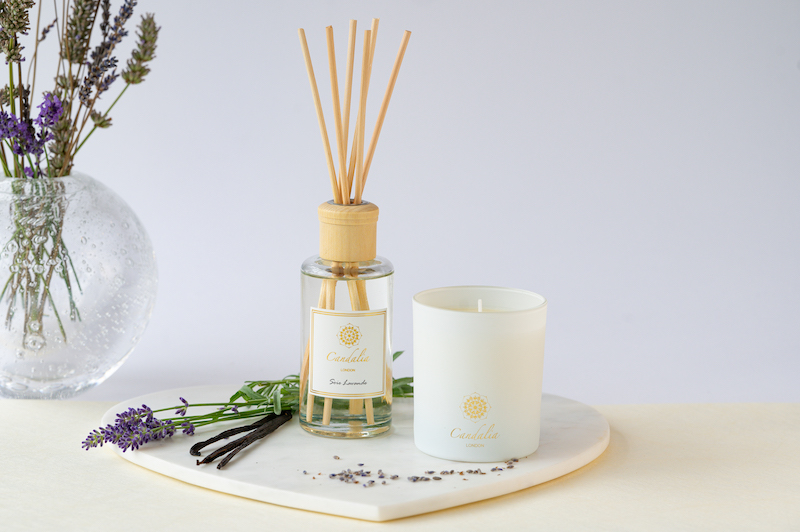 Keep up-to-date with Candalia on Instagram @candalia_london