Content creator Lauren Speers is also therapeutic radiographer in the Cancer Centre in Belfast and here she shares her favourite room with us.
"I married my husband Alex, 29, in July 2018 and the next day we moved into our home! We started our self-build in 2016 and Alex worked every evening and weekend doing the majority of the work himself. With this being our first home, we have been slowly finding our style and I have now fallen in love with interiors. I have really enjoyed the journey of designing our home room by room!" 
What is your favourite room and why?
My favourite room in our home is definitely our sunroom.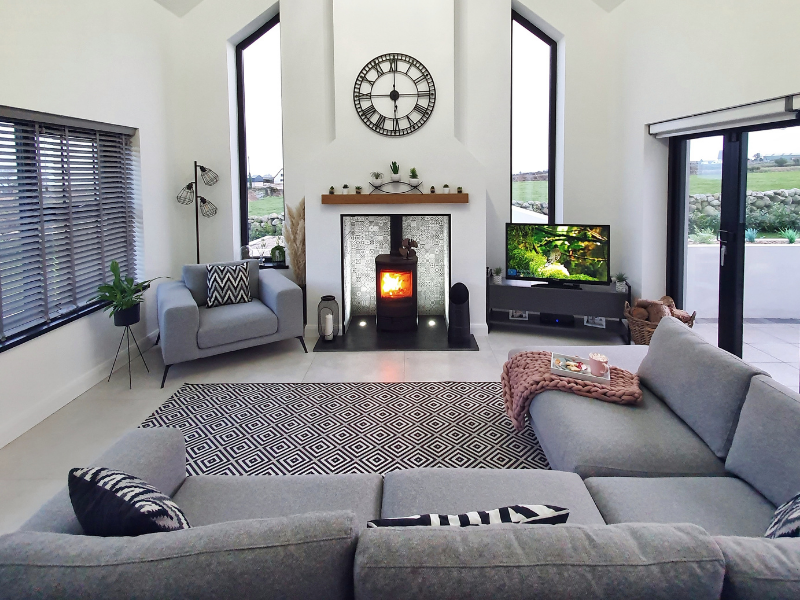 We love having a space that is open-plan with our kitchen, but still feels like it's own room as well!
What was the inspiration behind this room's design?
We designed all of our home ourselves and it was always Alex's plan to have a vaulted ceiling in here, we love how dramatic this feels when you walk into the room. Alex is a joiner and loves oak so we decided quite early on to add some oak beams into the ceiling to really make a feature of it and we love it! The bifold doors leading out onto the patio are such a great addition to the space. We love opening these up when the weather is in our favour!
Do you have a favourite detail in the room?
Our favourite detail of the space is definitely the vaulted ceiling.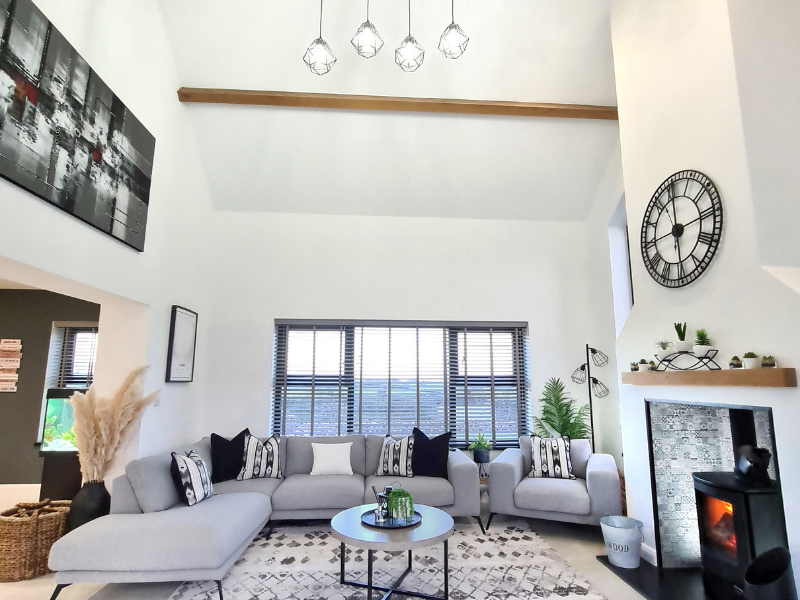 It makes such an impact and we are so glad we included it in the design!
How does this room reflect your personal style?
I love Scandinavian design and monochrome interiors and with lots of greenery and oak tones throughout, we think it makes a lovely calming space. I have added colour into a lot of the rooms in our home but this room suits the Nordic palette so well. With a full width window and bifold on either side of the room, the beautiful country landscape gives all the colour we need. Adding lots of greenery to the space has helped bring the outside in and ties everything together really well.
Is there anything you would change about this room?
We wish we had researched more into blind options for our home before moving in, we have motorised blinds for our bifolds that are battery powered, but ideally these would have been mains powered and hidden into a recess so they weren't visible when retracted.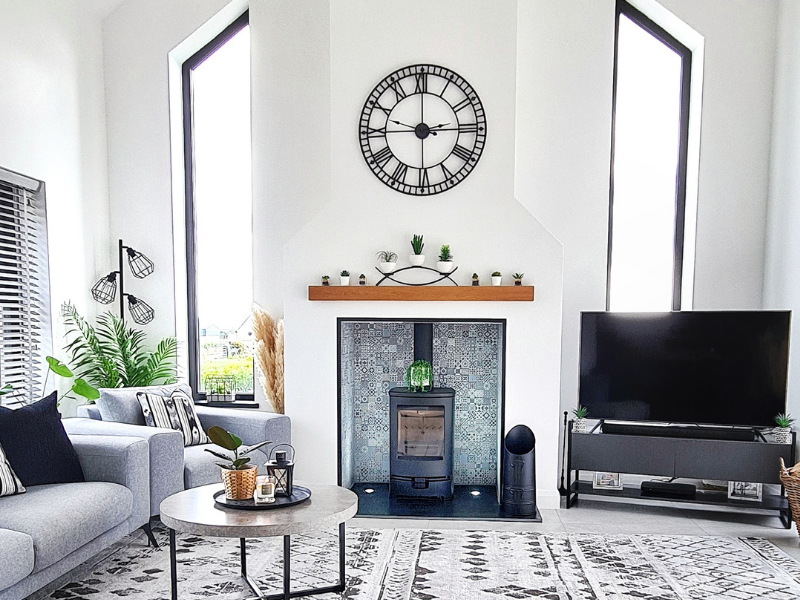 Our slanted windows either side of our chimney breast will cost a lot of money to buy a fully retractable blind for which is on our long list of to-do's for the house. Dressing a feature window like this is a cost worth considering if you are including them in your design, although we do think these are worth the extra cost as we really love the feature these windows make.
Do you have any advice for anyone wanting to create a similar space?
For anyone wanting to create a simple Scandinavian, monochrome design like this, our one piece of advice would be to include lots of textures in the space! Because of the lack of colour it would be easy for the space to feel cold, which is the total opposite of a Scandi design where 'hygge' or cosy is the goal. Adding lots of texture with a cosy rug, cushions, blankets etc will soften the look so much for that cosy feel! Adding lots of plants to the space is a great way to introduce some colour to Nordic decor too!
See more of Lauren's home on Instagram @our_self_build_ni
Read more: