Marty O'Neill from @dishyouwerehere spends 48 hours in co. Fermanagh's culinary capital.
Ireland's only island town, Enniskillen is the definition of country cool. Let's face it, we all want to explore more than ever, and anywhere that allows you to sail your boat right up to the door to 
shop for me is cool. While most of us drive to Tesco, in Enniskillen you can sail up to the shopping centre's very own jetty! (I should add that if you don't have a boat to do this – you can still drive!).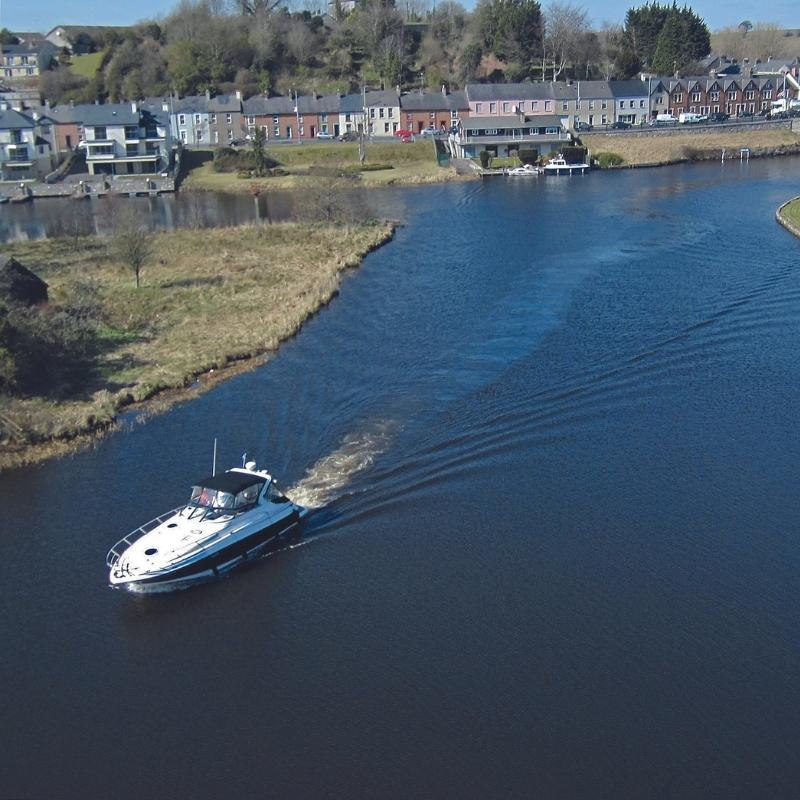 FOOD & DRINK EXPERIENCES
Steeped in history, and dripping with culinary delights, the first thing on your must-do list when in town is to book onto the Enniskillen Taste Experience. This is three hours of guided food and drink sampling on foot, led by Mark Edwards, the manager of Blakes of the Hollow, a well known local pub. 
Our tour started off with a visit to Joe the Baker for some warm fresh-baked sourdough, dripping in runny salted butter. Baker Joe Kelly bakes from the loft of a converted stone-built grain store, where you will be treated to doorstep wedges of bread, just like your granny served you as a child. It's a marvellous start to the tour, before setting off around the narrow streets with your team of newly found food-loving friends. Another highlight was Fintan from third-generation local family butcher's O'Doherty's for a sample and chat about their famous black bacon. Their special porkers spend the spring and summer months on their very own private island close to town – what a life! With too many stops to mention, another highlight was a visit to Victorian pub Blake's of the Hollow in town for some sausages and whiskey. This ancient little gem on Enniskillen's Main Street has numerous cosy snugs and an atmosphere that few can replicate. Honestly, my loyalty to this jewel when in town has nothing to do with their creamy Guinness, feeling of belonging and the fact that the pub's restaurant is run by Glenn Wheeler, owner of 28 Darling Street and from TV's Great British Menu fame! For those looking for live music and some good old Irish craic, then don't miss a Friday night in this place.
One of the most fun ways to wile away a couple of hours or more when staying in Enniskillen is to test those sea legs and be the captain of your very own ship! Erne Boat Hire will rent you a choice of boats by the hour. Allowing you a chance to get off the land and experience the picturesque island town from the water – weather permitting of course. We motored around town for a short while before mooring up at the Killyhevlin Hotel for some downtime and a bite of lunch. The hotel has its own jetty. Mooring up like a celebrity in your own boat with private access, it's a wonderful way to spend a leisurely few hours or more. The Killyhevlin also has a leisure complex and luxury waterside cabins with hot tubs if you fancy staying longer.
Another experience worth enjoying while in Enniskillen is what I consider to be one of Ireland's best and most generous distillery tours – The Boatyard Distillery. Perched and housed in an aforementioned boathouse on the edge of Lough Erne, priced at £45 per person, you'll enjoy five drinks, and leave with your very own hand labelled bottle at the end. Be sure the comedy legend that is Stanley takes your tour. He'll have the fire roaring when you arrive, drinks lined up, and with one-liners and a peppering of unknown facts being fired at you like a comedy machine gun, the tears will be tripping you.
WHERE TO STAY
We stayed in two locations when in town. Firstly, The Westville Hotel, which is centrally located, offers large comfortable rooms and a warm, friendly atmosphere. It is perfect for those wanting to be right in the heart of Enniskillen. This was then followed by a night at the luxurious five-star Lough Erne Resort on the edge of town. Their Thai Spa is one of the most authentic this side of Bangkok. The resort exudes quality and class, and their two-star AA rosette restaurant, The Catalina, headed up by one of the island's finest chef Noel McMeel, is not to be missed. The man has cooked for numerous American presidents for goodness sake. Try it! You can thank me later.
Although not on our agenda on this visit, I can't not mention yet another jewel in Enniskillen's crown – Finn Lough. This low key, luxury forest hideaway has everything you could possibly want for a night away including a private cinema, spa and whiskey library! Be sure to stay in one of their forest domes which allow you to truly embrace the magical surroundings.
---
USEFUL CONTACTS:
enniskillentasteexperience.com