Belfast's newest staycation destination, The Harrison, is the perfect spot for those who like to spend their time in welcoming, yet stylish surroundings full of personality and character.
Located on Belfast's Malone Road, near Queen's University, The Harrison, is Belfast's newest accommodation for travellers to the city, and one that offers something totally unique. 'I describe The Harrison as Chambers of Distinction, it's not an ordinary B&B, behind the walls of this Victorian landmark, guests will uncover an extra-ordinary bolthole filled with eclectic interiors and enjoyed a tailored stay whatever their requirements' explains proprietor Melanie Harrison.
Having travelled extensively all over the world, Melanie, originally from Armagh and now living in Belfast adds, 'I love Belfast and I think you appreciate it more when you have spent time living away in other countries. The hospitality in this city is second to none and any night of the week you can find somewhere offering live music and theatrical performances.  I felt that The Harrison was perfectly located to offer those staying the opportunity to enjoy this cultural offering as well as the many great bars and restaurants.'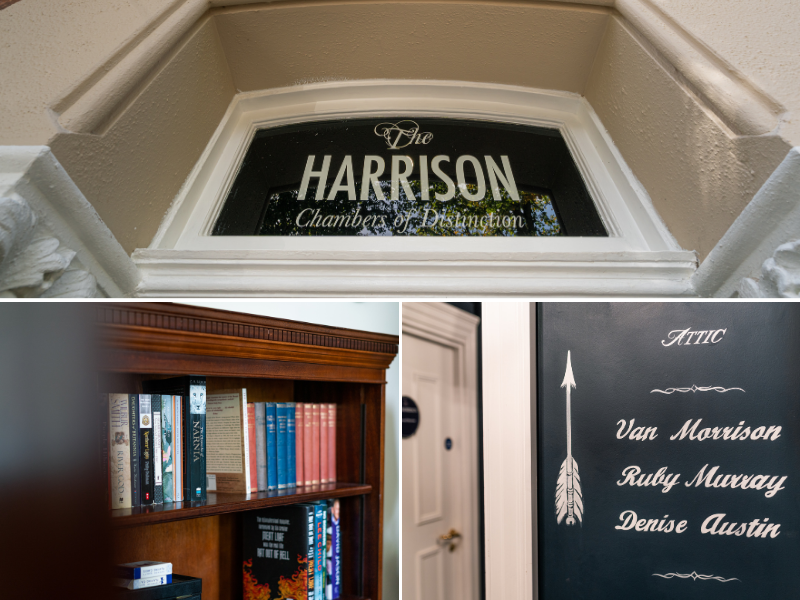 The Harrison is the perfect destination for those travelling to the city for work, rest or play. With Queen's University and the neighbouring Botanic Gardens and Ulster Museum right on its doorstep, City Hall and in turn Belfast City Centre is a mere mile away and then of course you have nearby Lisburn Road, Stranmillis Road and Botanic Avenue with all of their bars and eateries. Whether an afternoon of sightseeing, a night on the town or a relaxing walk – The Harrison's location ticks all the boxes. Plus, Melanie is on hand with her vast knowledge of the city's history and where to go.  'When you are spending time in a city you always get so much more out of it if you are with someone that knows all of its hidden gems. When I greet the guests on their arrival, I chat to them about what they want from their stay in the city and then I'll recommend places and experiences they might like.'
In order that they do unwind and get out and experience all that Belfast has to offer, Melanie has deliberately put no televisions in any of the rooms. 'Instead I have invested in high speed ethernet. Not only does this benefit those who might be staying with us for work, but if guests do wish to watch anything they easily can via their phone, iPad or laptop.'
Melanie has also focused on soundproofing rooms. 'Again to offer the best experience I want to make sure our guests can enjoy a lie-in with comfortable beds and soundproofed rooms.'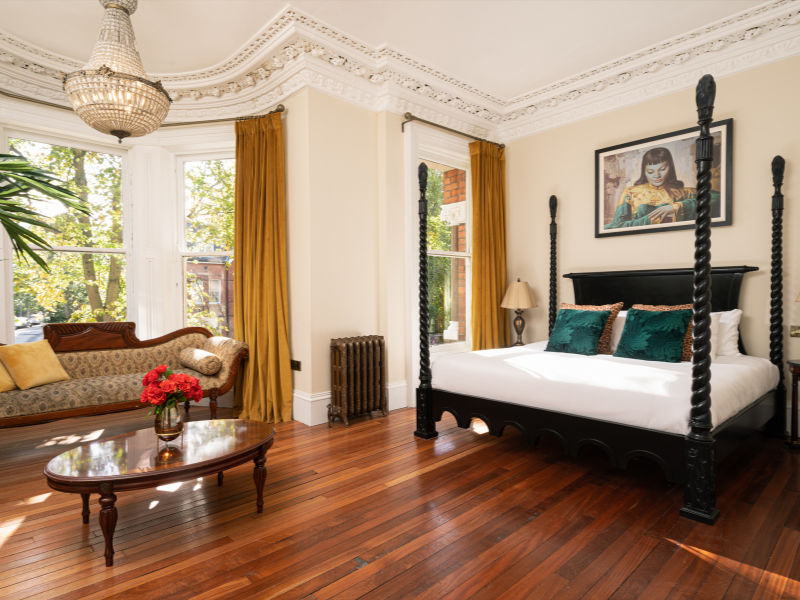 The rooms themselves, as indeed the whole building, is a mix of eclectic interiors that Melanie has sourced. From reclaimed pieces full of history to specially commissioned décor The Harrison is just bursting with personality.
'I do love an auction and to be honest, when furnishing a period property like it's hard to find furniture that looks as good as the originals.' Melanie has also sourced reclaimed items, such as the mahogany floorboards throughout which had been in the Royal Victoria Hospital and the railings on the staircase were once in Ebrington Barracks.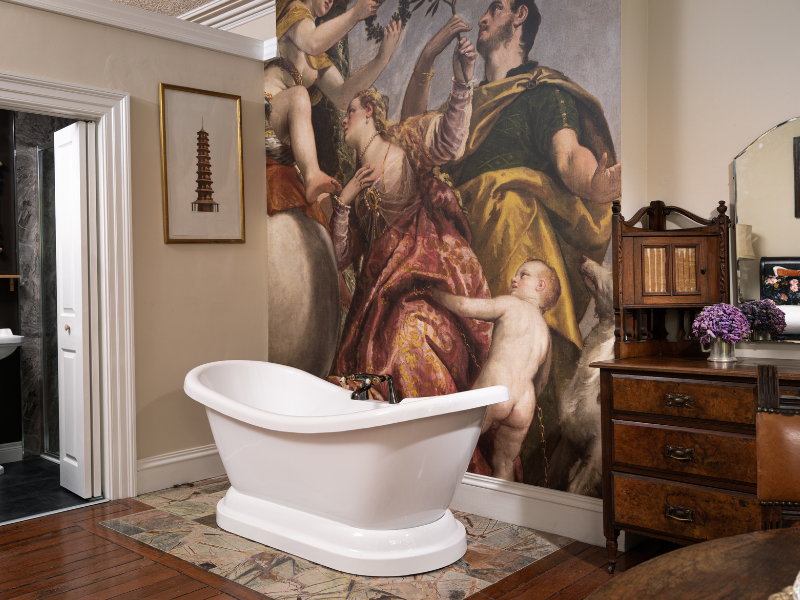 'I have sourced everything I possibly can locally and like to have a local connection for example, the carpets are from Ulster Carpets, the cast iron radiators are Arroll; named after one of the engineers in Harland and Wolff, and the toiletries in the bathroom are by local company Field Day, and milliner and local fashion designer Grainne Maher, has designed wallpaper and fabric which takes centre-stage in the Petite and Grand Boobouir rooms,' adds Melanie.
The Petite and Grand Booboir are two of the sixteen rooms you can stay in at The Harrison. As Melanie explains they fall into three different categories the Aristocrats, Bohemian and Gallivanters.'The rooms in the Aristocrats category include Ruby Murray, Hans Sloane, Yeats, Grand Booboir, C.S. Lewis and Bronte. All have the big bay windows, chandeliers, freestanding bathtubs and four poster beds. The Bohemian rooms include Jonathan Swift, Petit Booboir, Denise Austen, Percy French, Seamus Heaney and Anthony Tropp. These rooms are slightly smaller and perfect for a night's stay. Then the Gallavanters, these are at the back of the building and although they don't enjoy the same views from bay windows as the front rooms I had made them no less special with ornate cornicing being added, eye-catching wallpaper and beautiful waterfall sinks. The rooms in this category include Samuel Beckett which has quite a Parisian feel, William Connor with its exotic wallpaper and Van Morrison which is kind of psychedelic/70s in its design. The there is also The Lavery, which is our twin room with beds from the Caledon Estate. These are beautiful hand-carved mahogany beds and I've added plush velvet curtains in here too.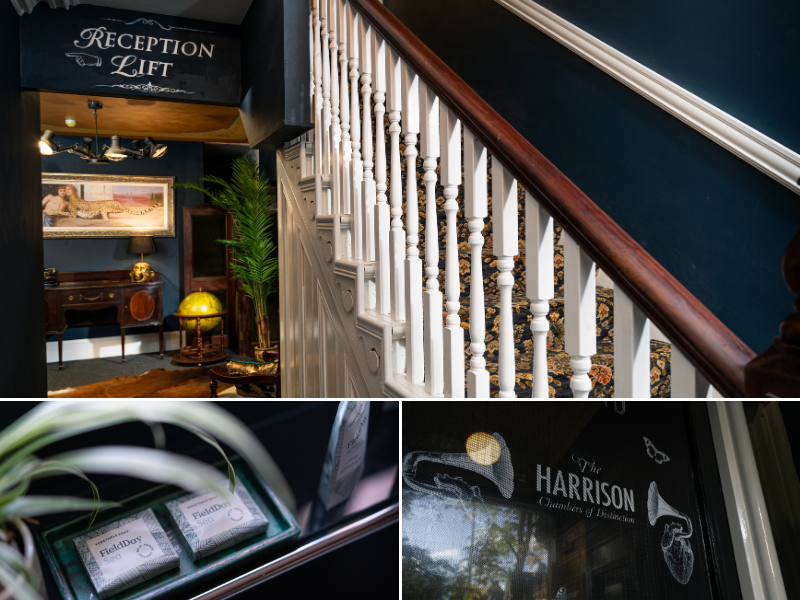 As well as the bedrooms, The Harrison has a communal sitting room, where a continental breakfast can be served if you don't wish to have this served to your room. 'Guests can enjoy a breakfast of croissants and coffee in the sitting room or on a tray served to their bedrooms. They also have use of the sitting room during the day with tea and coffee making facilities for them to serve themselves whenever they want.' 
As Melanie adds, 'I wanted to create a place that I would want to stay in. The Harrison has been a real labour of love for me, my family and friends, who have all helped me to get it to this point. Times are different that's for sure, but now we are open I can't wait to welcome guests to our unique city centre bolthole.'