Lynn Ferrari is a Creative Director for an American publishing company in Waterford. Married to Dan and mum to new baby Farrah Anne, plus her two fur babies Otis and Matilda, Lynn started documenting the move into her new home on Instagram in 2018. Here she welcomes us into her favourite room…
What room in your home is your favourite and why?
I think my favourite room would have to be the front room, it's what you'd call our 'good room' except we don't cover the couches in plastic and animals are allowed on the sofa. I think of it as my little escape. I don't use this room every day, or even every week but when I need a little time out to read or just switch off, it's the place I go. The colour of the walls, the plants, the velvet material of the couch, all create a relaxing environment. I also think I had a bit of fun when designing this room, I didn't try to make it all match. It's a bit of anything and everything in here but it works for us.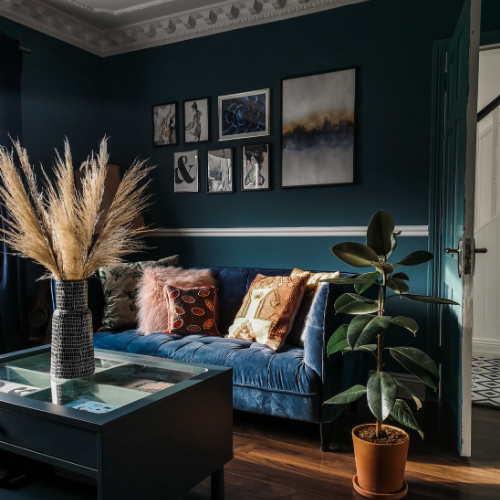 Who designed this room and what was the inspiration?
I designed the room, although it definitely wasn't planned. It was one of those rooms that just came together. When we first viewed the house we loved the details in this room like the ceiling architrave and the fireplace, they became the starting point for the design. In my husband's family home they have what they call the 'green room.' It's their good room where they have Christmas dinner, family get-togethers, etc. It's filled with vintage pieces, artwork on the walls and different patterns and textures. I guess we were inspired to create our own 'green room.'
Do you have a favourite piece in the room?
I tried to fill this room with things I love. I haven't rushed into finishing it. I'm trying to wait till we've found the right pieces. A lot of the stuff is vintage or pre-loved. A few of the items in this room are from my husband's grandmother's house. The bar cabinet, the large vintage print that looks like a painting and the fire guard were all passed down. I love mixing old with new and what better way to do that than with items with family history. I found the pink lampshade in a vintage shop in Dublin and it was an absolute bargain at €10 and I love it. The pink chair was a 30th birthday present from my best pals and the chest we got from the Kilkenny Salvage Yard. I also love the old fireplace in here; you don't really come across them that often any more.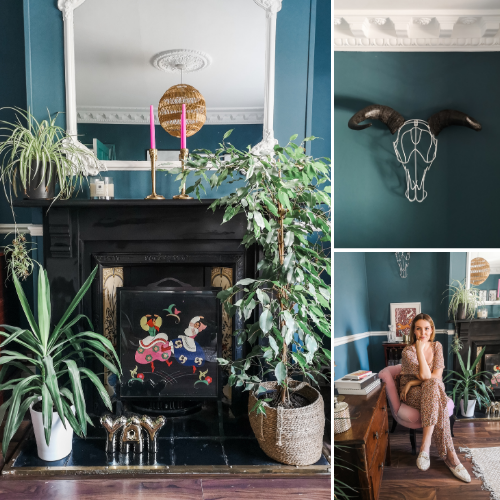 Is there anything you would like to change in this room?
We're on the hunt for original art for the walls. Prints are a great way to add character and style to a room but there's nothing like the real deal. I also want to re-tile the bottom of the fireplace and bring it back to life.
How does this room reflect your personal style?
I think this room is a good example of my personal interiors style, which I would describe as eclectic so there's a mix of vintage, boho, Scandi and modern. And yeah, I guess that's the same as my fashion and personal style. In my wardrobe you'll find a mix of everything – bold colours, patterns, clean cut neutrals and everything in between, I don't like any one style. I think a lot of homes are embracing a mix of styles, which makes the interiors really interesting.
Do you have any advice for those wanting to create a similar space?
The colour we painted the walls sets the tone for this room. We went with Tiltury Teal by Moda. Pick a dark colour that will create an interesting background for your furniture, artwork, plants, etc. Don't be to worried about matching everything in the room, but do think about how it will all look together and pull out colours and textures that will complement each other. Although this room has lots of colours in it, there are three dominant colours – green, navy and pink. A rule of thumb in our home is to use three colours in a room palette to keep it interesting and so it doesn't look too planned but more effortless.
You can see more of Lynn's beautiful family home in our upcoming December issue – on sale 6th November.
For more real home inspo, follow @myoldbrandnewhome and @ihilmagazine on Instagram!