There are many things we're looking to leave behind us in 2020, but our obsession with interiors isn't one of them and fresh interior trends for 2021 are starting to emerge.
Japandi
Japandi, as the name suggests, is a mix of Japanese and Scandinavian styles. In Pinterest's predictions for 2021 they found there has been a 100 per cent increase in year-on-year searches of 'Japandi'.
It is influenced by the ancient Japanese philosophy of wabi-sabi, a way of life which values slow living, contentment and simplicity, as well as the Scandinavian practice of hygge, which embraces comfort, cosiness and wellbeing. Japandi blends the smooth, modern lines of Scandinavian design with the sleek, functional, elegance of the Japanese aesthetic. It is minimalist yet welcoming, and is all about using neutral tones, lots of textures and natural materials. So far, this trend is standing the test of time.
At One With Nature
Cottagecore has captured the imagination of those stuck inside during lockdown this year. Tapping into a desire to be at one with nature, cottagecore is all about bringing the outdoors in and is inspired by countryside living.
But there is more to embracing the cottagecore lifestyle – it's not just a fashionable aesthetic. Cottagecore is all about living a simple, slow, sustainable lifestyle with nature. It's a far cry from living your life on your phone screen.
Boho Living
A Boho interior will set the tone for a tranquil setting with free-spirited passion and soft natural elements.
This 2021 trend is a melting pot of colour, texture and pattern, blending influences and elements from different cultures and eras.
Glitzy Cloakroom
Maximalism is having a major moment as we seek to curate our homes. After a decade of minimalism we love the inventive return of highly decorative and personal interiors.
This can be seen more and more in the cloakroom which is a good place to express your creativity – this tropical wallpaper catches the eye, is an on-trend motif and is effective in this small space. Once fashions change this small space can be easily updated with just a few rolls of fresh wallpaper for a whole new look.
Green Bathrooms
In 2020 a new trend bought a breath of fresh air into our bathrooms, quite literally. As many of us are spending more time indoors, we craved the outdoors and nature more than ever, this was reflected in our interior design taste.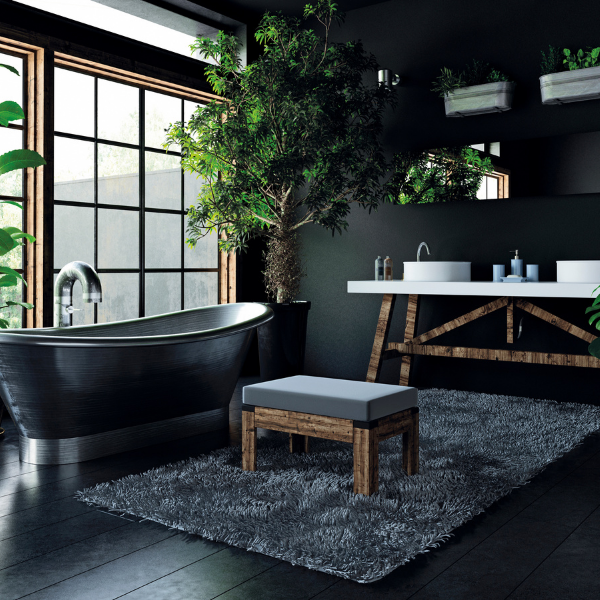 This trend is set to continue well into 2021 and will compliment many of the predicted major bathroom trends for this year. Plants provide us with the perfect sanctuary that many of us are seeking right now. The most searched for and popular plants are Bamboo, Monstera, Snake plant and Calathea – all of these thrive within humid environments, but some prove to be more popular than others.
Portable Lighting
An emerging trend is portable lighting. It's practical, as you aren't hamstrung by where your sockets are.
And, with people using their homes more in the pandemic, it's a nice, effective way to bring light to an area of the home you may have previously ignored before. They're such a nice alternative to candles, and are considerably less dangerous too.
The Rise of Vintage
Vintage design is enjoying a resurgence thanks to productions like Bridgerton, the latest binge-worthy Netflix series captivating the world.
Transporting its viewers back to the Regency era, the period drama has swoon-worthy interiors that we can't get enough of. To incorporate this look into your home, layer vintage homewares with modern elements in a complementary colour palette for a balanced and cohesive scheme.
Statement Headboards
It stands to reason that in 2021 we want to elevate our homes with dramatic touches of luxury. With the rise of the boutique hotel and its interiors influence, the trending look of the statement headboard has become a new focal point in the bedroom. 
Use brave colour and pattern and have fun coordinating your headboard with a wallpaper or throw. Don't be afraid to choose a more outlandish style as this only adds more character. See it as art above your bed.
Bring Out The Beige
Beige often gets a bad rap, but this versatile neutral shade is having a massive revival lately, thanks to the Dulux Colour of the Year 2021 Brave Ground. 
The beauty of beige tiles is that they work well in both contemporary and classic rooms, and the possibilities are endless when it comes to accompanying furnishings and décor.
Zingy Yellow
This year, Pantone took the unusual step of naming two colours as their shades of the year: Illuminating, a zingy yellow, and Ultimate Gray, a pale gray.
We could all do with sunny promises that's for sure. While we may think of yet more grey, the zingy punch that yellow brings will at least liven up a room. In fact it might be a blessing for anyone who has adopted the trend for grey walls and is now regretting it. Just add a yellow armchair! 
Dark Green Wall
Blue has been a default colour in interiors for some time, but recently there's been a resurge in true green.
Think along the lines of grass and olive as opposed to the more muted tones of, say, sage. This is largely an attempt to bring the feeling of the outdoors inside our homes. As well as reinforcing our connection to nature, it's the perfect scene-stealing hue to really transform your space.
Read more: