Virtual viewings are on the increase according to a new study* by the UK's technology-led estate agent, Purplebricks, with one in six buyers willing to make an offer without setting foot in the front door.
To help people navigate the new virtual housing market, Purplebricks has partnered with interiors expert and author of Mad About the House, Kate Watson Smyth, to give buyers and sellers top tips on virtual property viewings:
There are a variety of ways you can view properties virtually
A live virtual tour is where the seller literally walks a buyer around their home from their phone or tablet, showing the house room by room, talking through how they use the space and answering the buyer's questions as they go. It gives a personal insight into how the seller has used the house. Here's a live virtual viewing recorded by one of Purplebricks' recent sellers, influencer Sophie Hannah Davis from Whaddon, Buckingham.
A virtual tour can be pre-recorded and hosted on the agent's website and could be a filmed walk-through, or a montage of photos, put together by the agent with a voiceover. Click HERE to see an example from Purplebricks.
A brand new virtual tour that Purplebricks is using is the 3D Matterport tours service which is currently being piloted in Scotland. You can click on the exterior or interior of the house and rotate the view through 360 degrees.
Kate's Virtual Viewing Tips for Buyers
Don't judge a book by its cover
Look beyond the décor – too ugly and it might put you off and too pretty and you might forget to look at what's really going on in a room. Décor can easily be changed; you need to look at the 'bones' of the house to decide if it's right for you.
While introspecting the "bone structure" of the property, ask are there lots of original features? Does the fireplace work? Where are the radiators positioned in the rooms and will your sofa have to sit in front of one? Are there floorboards under that carpet?
Check the windows; are they double glazed, UPVC? These things can be expensive to add or replace. If the property isn't double glazed, this will impact the temperature in the room, and single glazing will inevitably let out a lot of heat, as well as letting the cold in.
Find out which direction the property faces – north or south? South will be hot in summer and the sun might shine in directly (lovely, but it will fade your sofa) whereas a northern light will be steady all day long.
Can you see views from the windows? You might be looking over a car park or a busy shopping street and if it's noisy outside, this is often one of the biggest deterrents when it comes to buying a property and something that might be hard to establish on a virtual viewing.
Are the lights on or off? Does the room you are seeing need the lights on all day, or is it filled with natural light? You don't want a gloomy, badly lit room if it is one you're going to be working from.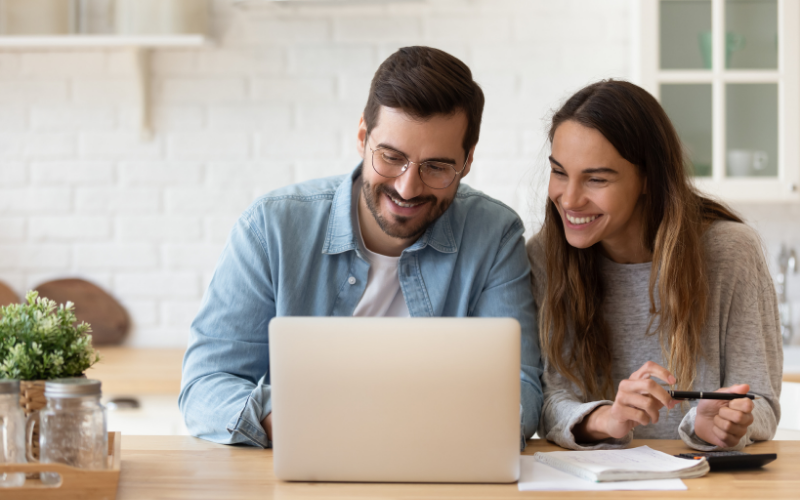 Don't forget to look at the size of the furniture – is that a two-seater sofa or a three-seater? How big do you need it to be to meet your needs? How many people can sit round that kitchen table? Can you add a bench or fit in a bigger one? Count the kitchen cupboards (and compare with what you already have). Is the fridge big enough and if not, is there space to add a bigger one? What is the state of the oven and might it need replacing in a hurry?
Bathrooms and kitchens are the rooms we most often want to change, but they're also the most expensive.   You might have to live with what you buy for a while, so have a close look at all the appliances. In the bathroom, have a look at the state of the grout and limescale and decide if it needs to be replaced.
Ask about water pressure in the shower (if it's a live viewing ask the property seller to turn it on). Is there room for a bigger shower or a freestanding bath?
Essential room for storage
One of the main things people forget to ask when viewing a property is 'where is the storage?' It's always key, so make sure you keep an eye out in every room. Start with the hall – where are their coats? Where would you put yours if you were actually going round to visit? Where do they keep the big, awkward stuff like the vacuum cleaner and the ironing board?
For tips on selling your home – CLICK HERE