Seven Irish interior and lifestyle influencers share their Christmas decorating styles and top tips to fill your home full of festive style and cheer.
Yvonne Purcell
We don't put our tree up until the night of The Late Late Toy Show which is usually the first week in December. My decorating style would definitely be very rustic and I use as much foliage as I can find on my walks to decorate our living room, hall, kitchen and my bedroom with my homemade wreaths and garlands; it's much nicer to make your own than buy your decorations. I love nature and the great outdoors, so this is what inspires my décor and as well as using what I find from walking by the old racecourse near my home, I also like to forage on the beach for driftwood which looks beautiful in a bowl with fairylights and pinecones, acorns and eucalyptus, holly and berries. I made two wreaths last Christmas using large hula hoops wrapped in twine and decorated with eucalyptus and dried flowers and this year I'd like to make a large rustic woodland chandelier wreath for over our Christmas table. Every year, I make a table runner for Christmas day using fresh eucalyptus which smells incredible and decorate with pine cones, bunny tails, cotton stems, dried wheatgrass, stirlingia, straw flowers and dried palm fronds. I love to fill the house with festive fragrances from the oranges I dry in the oven to the essential oils I sprinkle over pine cones piled in a bowl and my lanterns burning scented candles too! You also can't beat the smell of a real tree. This reminds me of Christmas past and my two year old decorating the tree. However, I bought a faux tree while in our local garden centre, The Garden House in Malahide, a few years ago and I thought it was real. It was so beautiful I just had to have it!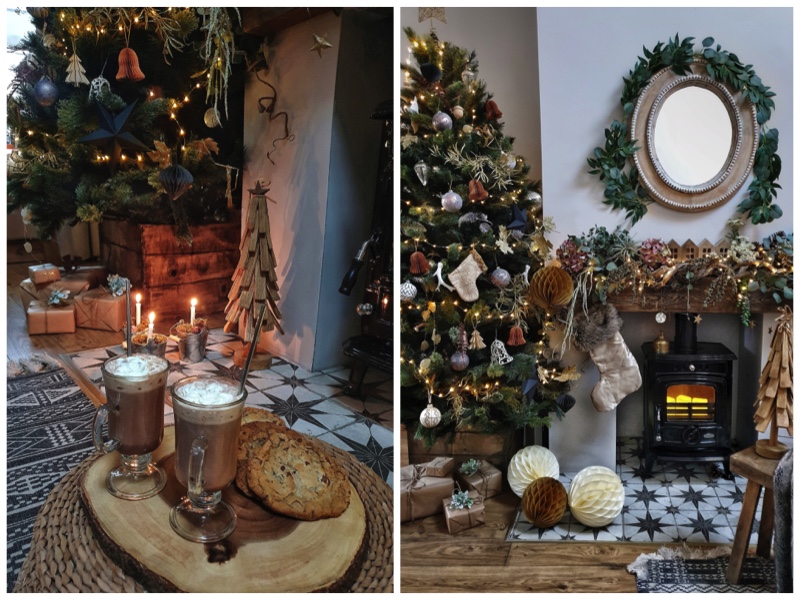 Yvonne's Decorating Tip: Forage for your decorations; it's free plus it's much more satisfying making your own. Collect branches for twig wreaths decorated with dried flowers, pine cones and anything you fancy. You can even make your own twig star using five sticks of similar size from your backyard or nearby park and tie together in a star pattern with string or super glue for a classic nature inspired Christmas decoration.
See more of Yvonne's home this Christmas on her Instagram

@sixat21
Eniko Kirkwood
I'm kind of a last minute person and don't start decorating until a couple of weeks before Christmas. I think I would get bored of all the decorations if they were up too early. I usually decorate the whole downstairs area, which is where we spend most of our time and this year. I would like to decorate our gazebo outside this year, to make it look like a Christmas wonderland. While I'm decorating I love to get the fire lit and listen to Christmas music with a glass of mulled wine in my hand. My decorating style is quite traditional; I'm inspired by classic Christmas movies and Instagram of course. I love all the retro decorations that remind me of my childhood and although I've been using the same decorations for quite a while, if I want to change things up M&S is my first port of call. We bought a fake tree a couple of years ago, but it didn't work for us. It's hard to replicate the smell of a real tree. We always have a traditional tree in our snug room and a more modern tree with pastel coloured décor in the living room. Plus, I always buy a small tree in a pot as well, which we plant in the garden after Christmas.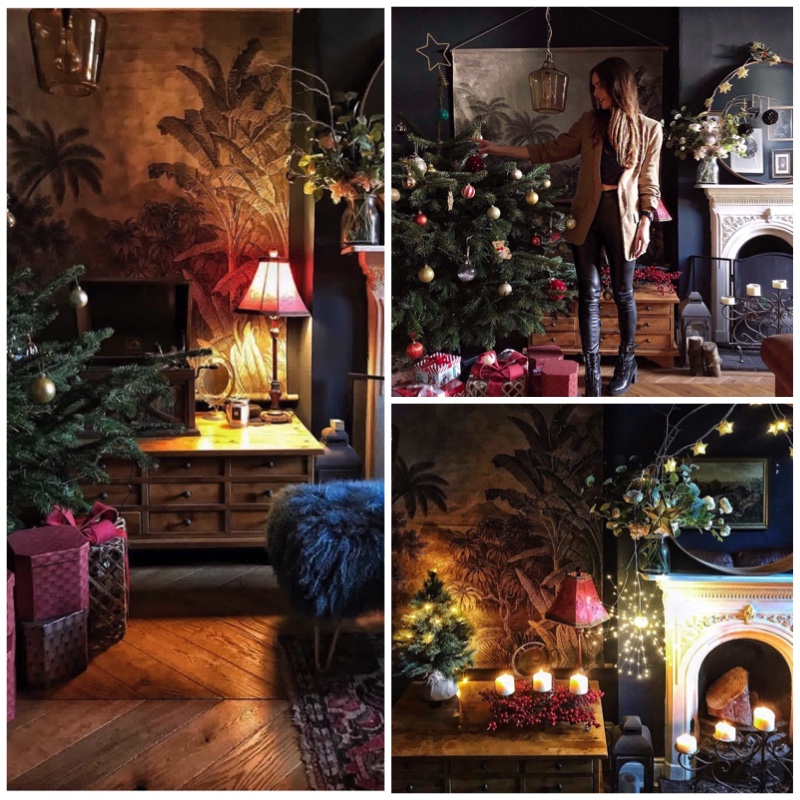 Eniko's Decorating Tip: Try to use boxes for the presents around your tree instead of wrapping paper. It looks amazing and can be reused every year.
See more of Eniko's home this Christmas on her Instagram

@mydarkhome

 
Laura Magee
I love Christmas décor, I think I have taken that from my parents who adore the festivities and I like to carry on their tradition. I have quite an eclectic decorating style and mix traditional and modern elements, which is inspired by my parents, old xmas movies and memorabilia I've collected over the years. Every year my husband Jonathan and I add to our collection and we now have a fab selection that we've sourced from all over the place. I have some pricey ones from Liberty's and John Lewis, some bits I have picked up from garden centres and then the spur of the moment grocery shopping decorations that seem to find their way into my basket as if by magic! I love getting the decorations out as soon as it hits December, even though Jonathan would happily wait until a few days before Christmas! I crank up the xmas tunes, light some scented cinnamon candles and open a bottle of red! I tend to focus on the main living area of the house when I decorate, but I have been known to jazz up my bedroom with fairy lights in the past! This year I would really like to up my mantle game. I have my eye on a pretty fabulous garland that would look amazing above my fireplace, otherwise I think I would like to add some festive mini Christmas trees outside my door and decorate with fairy lights. When it comes to the tree I felt bad about throwing them away after Christmas, so we bought a really nice fake one from House of Fraser a few years back. It's not the same as a real one, you don't get the pine needle smell, but you also don't get the pine needle mess afterwards! Plus I'm mad about scented candles and room sprays; if you were ever in my house in December, even the smell alone would be enough for you to know Christmas is around the corner.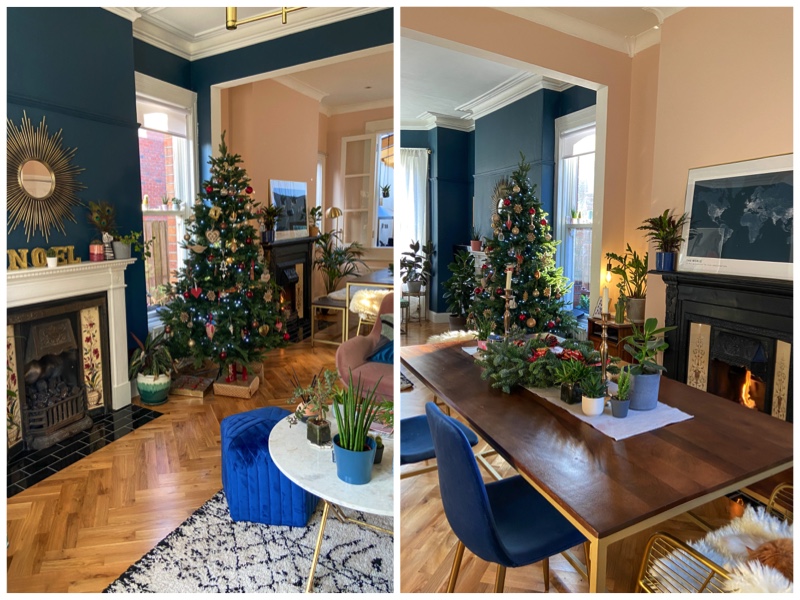 Laura's Decorating Tip: Have fun with your décor, more is more! Christmas is all about fun, festivities and family; If you're like me, each bobble or ornament will have a story, so who cares if your tree doesn't match your mantle or your colour scheme is all over the place. Relax and enjoy the festive cheer!
See more of Laura's home this Christmas on her Instagram @deco.dwelling
Jill McDowell
It has become a tradition for me and my sister to decorate Rose Cottage together every year. Both her and I share a big love for all things Christmas and we start planning the décor together in late September – it's almost a competition now to see who mentions it first! She always takes charge of the tree and I will work on the garlands, music choice and keeping us in drinks and snacks! The decorations go up the last week in November, but in my defence they do come down on Boxing Day in preparation for my son's birthday. I go for a very traditional Christmas, in keeping with a country style. I changed it one year to a more modern feel, but it just didn't suit our home. We only put up one tree in the main living area and I love it to be wrapped in tartan ribbon and burlap with natural coloured decorations. We invested in a high quality artificial tree a few years back. We find it's so much easier to manipulate the branches to sit exactly how you want them. The fireplace, dining table and hallway will all have thick garlands full of eucalyptus and berries, all inspired by the greenery and fields around us. I tend to take inspiration from Christmases gone past. I love looking at the old Christmas cards with scenes of a living room and roaring fire in the background and that's what we aim to recreate here. Most of our decorations have been bought many years ago and have been passed down; which is lovely because they hold a lot of fond memories. This year, I've added a ladder to the wall in my living area so we are hoping to weave a garland through that, adding fairylights and some twigs.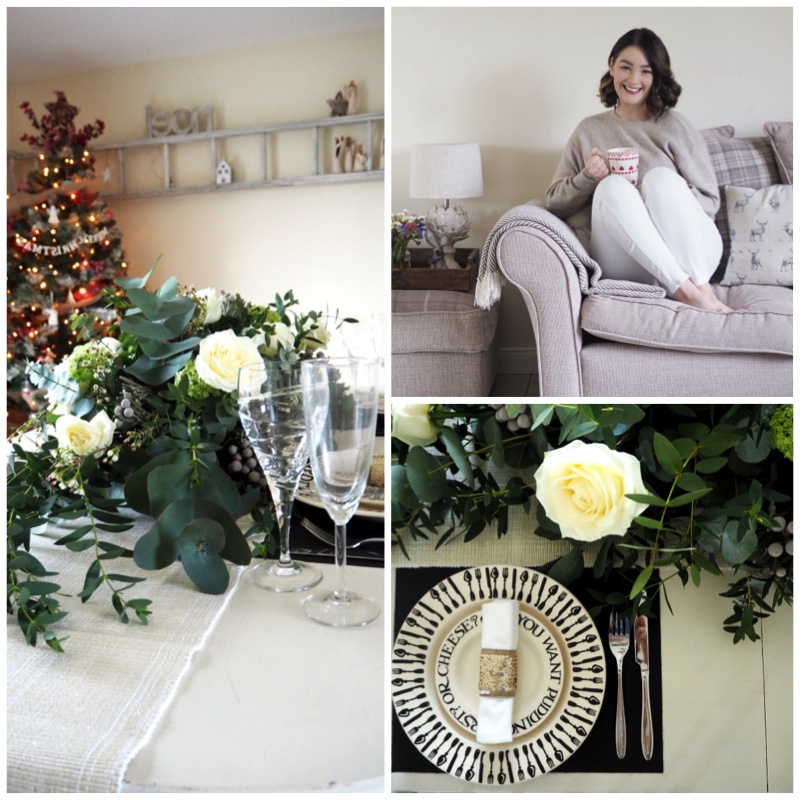 Jill's Decorating Tip: Keep the same Christmas décor theme throughout your home, this will help it flow better and create a more interior designer feel.
See more of Jill's home this Christmas on her Instagram @homeatrosecottage
Jessica Tynan
We've only celebrated two Christmases here in Seanua. The first year we were only in the house two months and it was still very much a building site, so last year was my first year being able to really go for it. I love Christmas and if I had my way the decorations would be up early in November, but my husband Dan believes it should be December 8th. In reality I always want them up before the The Late Late Toy Show! I decorate the main living areas and have two artificial trees (don't tell Dan but I have plans for one or two more trees this year!), one in the dining room and another in the snug. I would like a real tree for outside, but I just think indoors it wouldn't survive long enough as the house is so warm. I also add other decorative bits and pieces around the house. I have quite a traditional style, which is surprising when nothing else about my style is traditional. I love the greens, reds and golds, with the odd quirky accessory here or there too. As well as taking inspiration from Instagram, I do browse around the shops and TK Maxx is great for picking up unique finds. II love it when all of the  decorations are up and you can stand back with the fairy lights on and admire your hard work. There's nothing better than walking into our snug or dining room at night when the tree is up and the lights on, it creates such a magical atmosphere.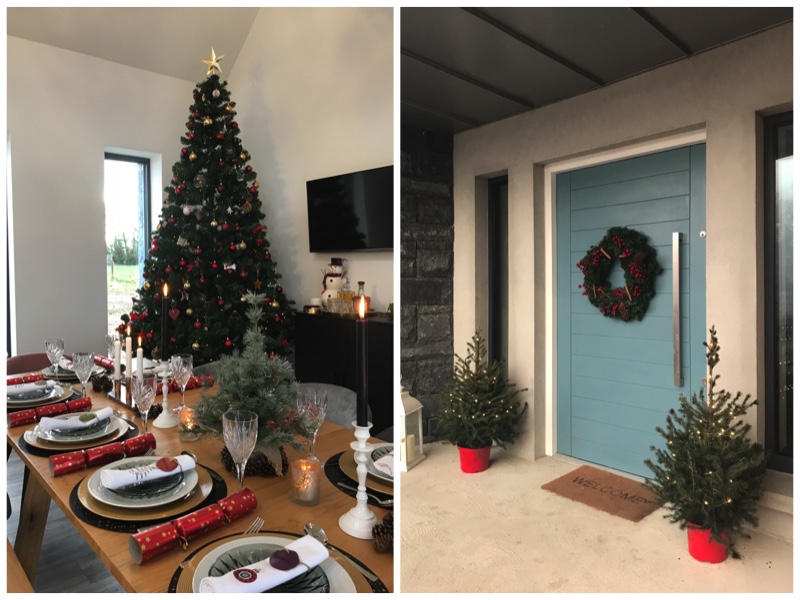 Jessica's Decorating Tip: Store your decorations in plastic boxes so it's easy to pack them away and then pull them out each year. They will be safe and makes the whole thing easier. 
See more of Jessica's home this Christmas on her Instagram @seanuahouse
Yolanda Cubitt
It's tradition for the decorations in our house to go up on December 1st. Every year we go and pick out our tree. For me, you really can't beat a real Christmas tree and that lovely fresh scent of the pine needles. Once we get home with the tree I get the mulled wine on and the mince pies out to really get us in the Christmas spirit as the decorating begins! I am inspired by nature and with my Christmas decorations it's all about bringing the outside in with pine cones, branches and berries, which all combine to fragrance the house with that lovely fresh, seasonal scent. I prefer to make most of my decorations using pieces I have foraged and tend to get inspired by what I see online. My preferred decorating style is definitely traditional, however, when it comes to my colour scheme I avoid red and only ever have green and silver. In other words, lots of natural greenery from outside, but with that little bit of sparkle I like to give everything in the gg house! I tend to decorate the whole house with little touches in the bedrooms and bathroom, however, I do focus on the main areas such as our open-plan living/dining area, the hallway and front door. I don't change my festive décor from year to year, I have found the style I like, which is to keep my decorations as natural as possible, and this is what I do every year now.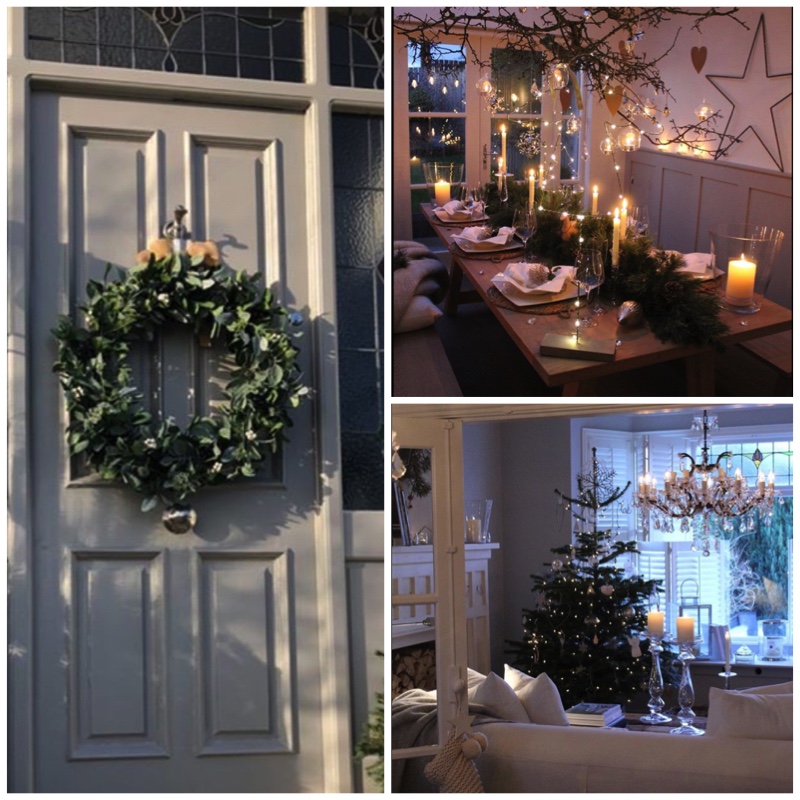 Yolanda's Top Tip: If you have a real tree keep it watered with rain water you collect in your garden. I also decant some rain water into a spray bottle and mist the tree with it everyday.
See more of Yolanda's home this Christmas on her Instagram @the_gg_house
Jennifer Henry
Christmas is my favourite time of the year and I count down the days until it is time to decorate. Since I was a young child, the 1st December marks the start of Christmas and we always had a tradition of decorating on that date no matter what day of the week it fell on. I love to decorate as many areas of the house as possible. However, with our kitchen extension now in the works there will be no decorating there this year! My style is all about clean lines, timeless elegant décor and beautiful accessories and our Christmas décor which involves mixing silver, gold and white with lots of sparkle reflects this. Putting up the tree is the main event and a pretty big task at that. I love opening all the boxes of tree ornaments and remembering where we got them and why I love each of them so much. That coupled with an excited toddler and some Christmas music is perfection.   We've an artificial tree because I am allergic to pine trees. As self-confessed perfectionist I'm not sure I could deal with the irregularity or the mess of a real tree! We invested in an amazing 10 foot tree in Brown Thomas over two years ago which is just so beautiful and complements our high ceilings so well. I love the décor in Brown Thomas and usually treat myself to a few new items each year in the January sale. We have quite a collection now. Dunnes Stores also does amazing décor each year.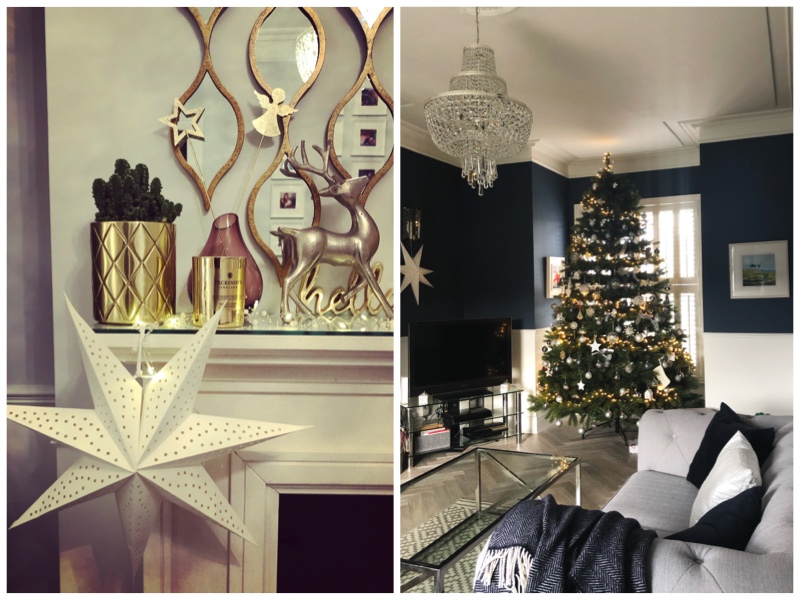 Jennifer's Decorating Tip: Buy quality not quantity when it comes to Christmas décor especially tree ornaments. They really do last if you buy a few pretty things each year, they will develop meaning and you will love pulling them out each year.
See more of Jennifer's home this Christmas on her Instagram @renovating_corahouse