Marty O'Neill takes in the best of Switzerland in the summer…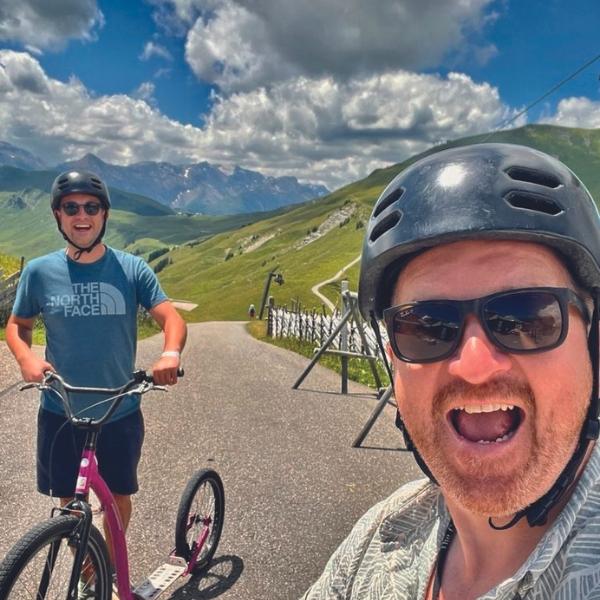 Switzerland may not be high up on your list, mistakenly, but it really should be. Mountains, glacier rivers, breathtaking scenery, and villages and cities that are steeped in history. 
Terracotta-coloured rooftops, cheese fondues and did you know that they produce incredible organic wines? I'm moving. Immediately!
On my recent trip I was asked constantly by everyone on social media – is it expensive? Yes and no! Eat in the busy tourist areas of the main cities ad expect to pay £80 for a couple of burgers and a few glasses of wine. I know, gulp. But, step out of the cities, and venture off the beaten track, and you'll be rewarded with stunning scenery, and prices similar to back home. You must also remember that the average annual income is 100k. But by simply buying some Swiss cheese, fresh bread and cured meats in a local supermarket for a few pounds, you can have countless inexpensive lunches for your trip. It's all about forward planning.
We spent a night in the capital city of Bern and travelled up into the heady heights of Adelboden in the Bernese Alps. The home of the world downhill championships and Ski Sunday last year!
Places To Visit & Things To Do:
Bern, the capital is visually stunning. A medieval city built around the glacier Aare river, with its blue-green opaque tones, you'd be forgiven for thinking it was dyed like the Chicago river in the USA on Paddy's day. H
eartwarmingly patriotic with its coat of arms and Swiss flags adorning every building around the ancient heart of the city, we found every office worker and visitor hugging the shade of the river bank to have lunch and drinks with friends al fresco. How civilised!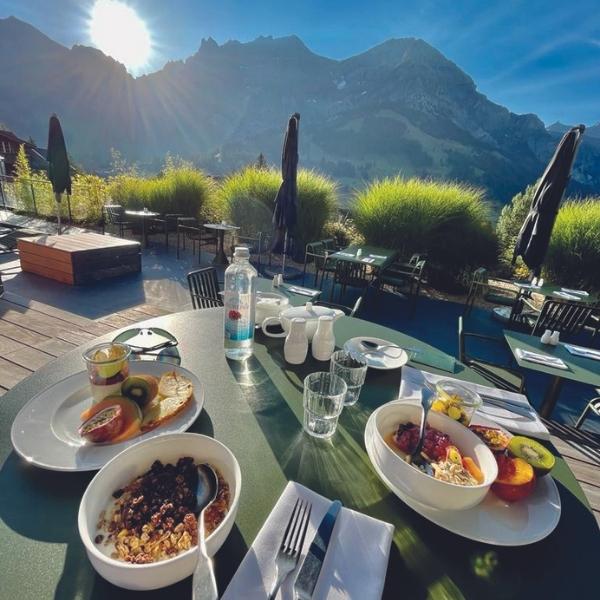 The Alps aren't just for all things snow and while in Adelboden 
we spent our leisure 
time in the Bernese 
Alps. Most Swiss 
cable cars will 
operate all year 
round, allowing the 
energetic amongst us 
to effortlessly climb to 
the top and hike our way 
around well-signposted paths 
as you slowly make your way back 
down to lower levels. We opted for the high adrenaline option. On arrival at the very top, you have the offer of taking a large downhill bike with nothing more than good brakes and a safety helmet. We followed over 45km of paths snaking down through Alpine villages and over mighty glacier rivers, taking in awesome vistas as we went. It's a brilliant way to spend a full day and many people have seats outside their homes to welcome weary walkers and travellers for something cold or comforting. A welcome break at any time of the year! If you're staying in the area for more than three nights, you get a free pass to travel on all gondolas and cable cars in the area.
You can also opt for the more leisurely option and just head to the mountain peaks for nothing more than photos, a glass of wine and a nice meal. Yes, there's a restaurant at the very top! We loved simply sitting and watching the ever-changing skyline, incredible is putting it mildly. Clouds and storms roll in and out like passing ships, peppered with sunshine and glorious sunsets.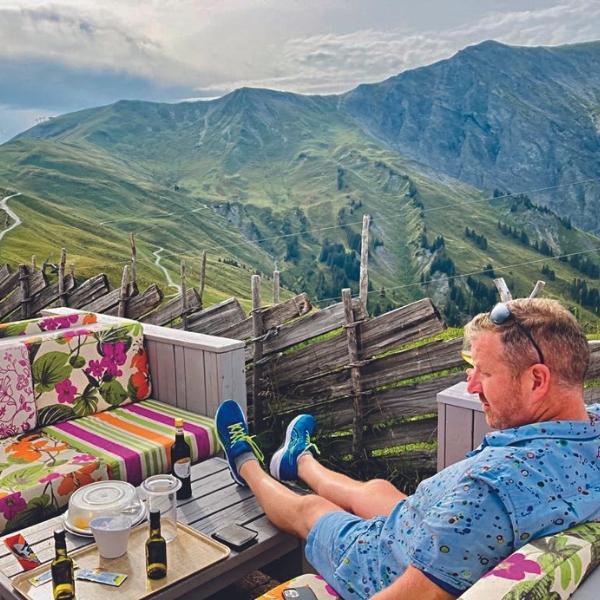 Take Note:

The weather in any high mountain range is a bit like Donegal, unpredictable! Summer is normally cool to start, but can get up to 25°c-28°c by midday from June to September, with winter and snow season arriving quickly around the end of September. 
if you visit mid to late September, be sure to catch the yearly ritual of bringing the Alpine cows back down from the slopes. every animal has a large bell and is dressed with summer flowers. A magical and emotional experience as the narrow streets filled with hundreds of fattened, content cows as the air rings with the unmistakable chimes of Swiss cow bells. unforgettable to all of your senses.
Where To Stay:
Staying in the uber stylish Cambrian Hotel, we were spoilt for choice in this fabulous hotel. Surrounded on all sides by soaring glacier topped peaks and being able to soak in a heated pool whilst taking it all onboard, is something I will never forget. 
The luxurious spa at the Cambrian has a stunning outdoor heated pool with jacuzzi-style beds. I highly recommend walking out into the incredible infinity pool at sunrise and watching the sun come up over the highest snow-capped mountains. The pool's view is so popular for photos that the hotel has had to ask guests to limit photo opportunities to set hours of the day. Many an 
Instagrammer
 was spotted frantically trying to take that perfect poolside silhouette. I went with the more relaxed option of lying back, taking it all in, and photographing your toes in the foreground. You have to prove in some way you've been there, done that, right?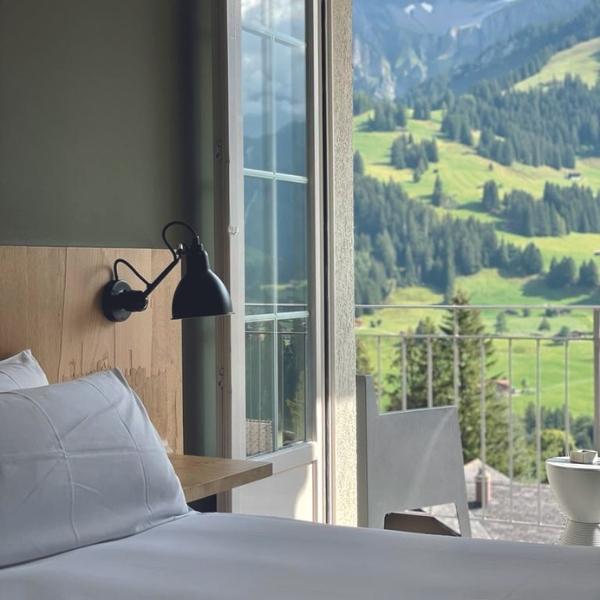 Rooms are from £250 per night including their amazing breakfast. Celebrity chef Bryn Williams, the other half of Texas lead singer, Sharleen Spiteri is the brains behind the exquisite ever-changing restaurant and its adventurous menus.
The Verdict:
The tourist board is keen to promote the Alps as a summer destination, as most of us think of skiing when you mention alpine resorts, and we see why. I felt like an extra in Heidi (an age-related reference that most should get!) surrounded by green rolling pastures, snow-capped mountains and Swiss mountain dogs aplenty. Stereotypical in every sense of the word and we loved every second of it.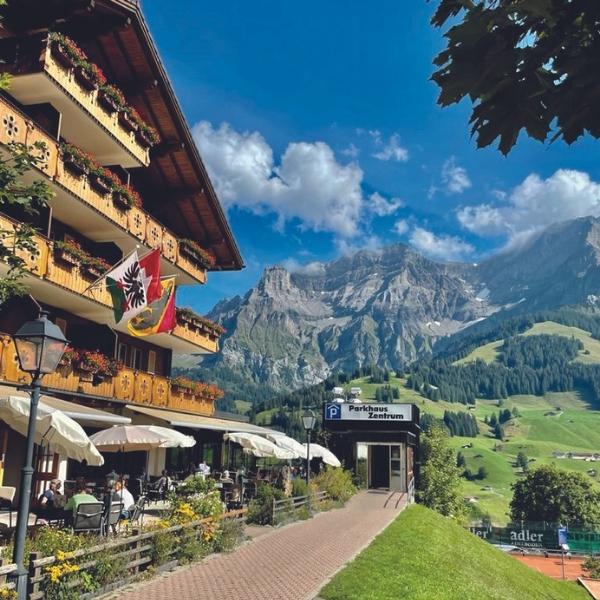 Getting There:
Flights from Dublin to Zurich are all year round from £65 each way. Visit Switzerland have plenty of information for guests from winter to summer, and Adelboden tourist information is a wealth of information for guests at any 
time of the year. Switzerland 
is not just a winter destination 
and I genuinely can't wait to 
go back.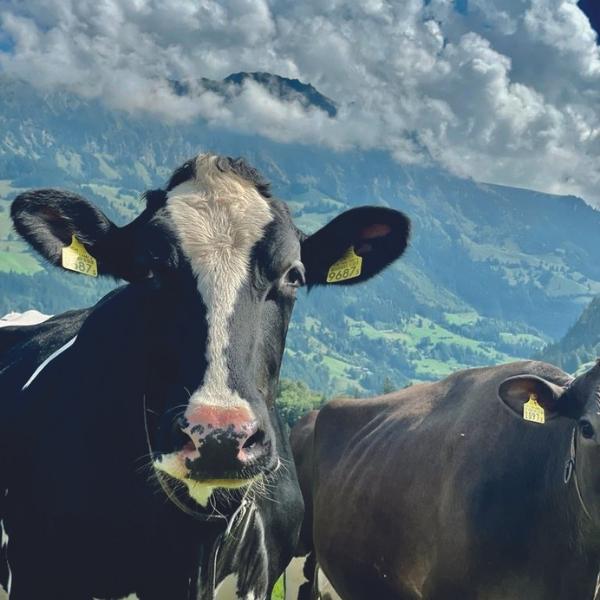 ---
Useful Contacts: 
For more food and travel inspiration follow Marty on Instagram @dishyouwerehere