Chris O'Hara talks about returning to his love of painting and the peace it has brought him.
Though he went 27 years without picking up a paintbrush, artist Chris O'Hara has always felt the presence of art in his life. His mum, Ann O'Hara, was an artist and a prominent art teacher, so Chris grew up surrounded by artistic projects. However, rather than continue in his mother's footsteps, Chris chose the entrepreneurial route, which he describes as a 'rollercoaster ride' with dizzying heights and unbearable lows. After several decades in the hospitality and food business, Chris realised that despite success, he was experiencing a combination of misery, conflict, ill health, stress and depression.
Once the recession hit, things took a nasty turn. In Chris' own words 'the house of cards began to fall, both personally and in business. Following the death of my mother, who was my greatest inspiration, my body finally said 'enough is enough'.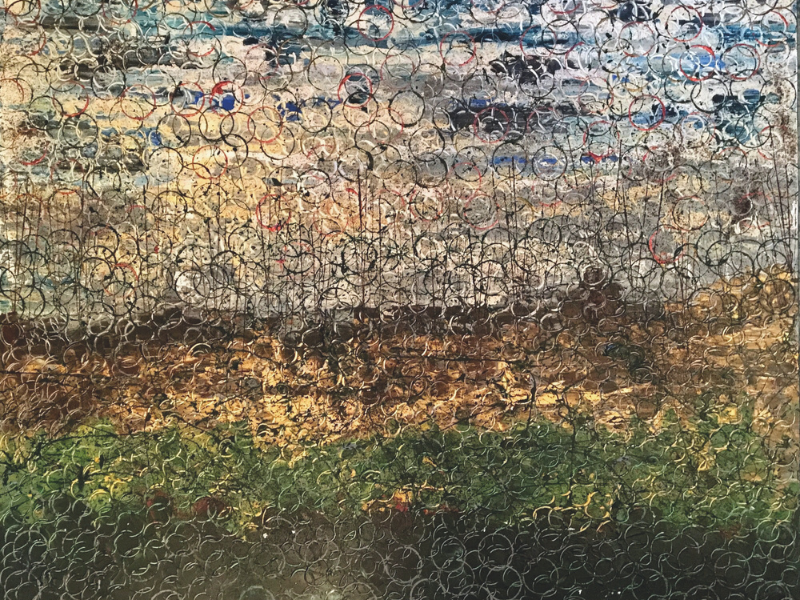 Through crippling illness, brought about by stress and anxiety, O'Hara found his way back to the paintbrush. 'I firmly believe that my illness was a direct link to the fact that I was at breaking point. It was a release of all the stress, hurt, tension and worry in my life. With nothing else to do, I frantically went on a quest to find the meaning of life. I was captivated by how much of what I read I could relate to. It was becoming clear how wrong I had got it. Around this time, I received a painting of a vase of flowers which I hung in the kitchen; over the days that followed it seemed to speak to me. I bought a canvas and paints and proceeded to paint that same subject. This was my return to art.'
Since reawakening his artistic flair and realigning his values, he says 'I've never felt more at peace as I have over the past two years. It's as though a dark cloud has passed; a real sense of calmness has come over me.' Chris describes his abstract work as a combination of colour, texture, shapes and balance. 'I believe it to be a true reflection of this brighter, peaceful stage of my life, breaking through the dark, turbulent, manic life that was. I hope the passion shines through, and the viewer feels the energy and flow of the paintings.' For O'Hara, art is a true form of expression, 'It's a raw, honest, glimpse into another human being. It's my 'great escape'. It's my way to allow myself to be myself. To overcome the fear of what other people think of you, it's liberating, it's creating and rewarding. It's a journey of discovery, to find little gems in a mistake, the thrill of what might seem like a disaster two thirds of the way into a painting and something miraculously happens to turn it around – an endless supply of joy.'
View this post on Instagram
Chris O'Hara's paintings have gained a number of well-known fans including Vogue Williams and Spencer Matthews, presenters Glenda Gilson and Lucy Kennedy and Pippa O'Connor. He has been commissioned for over 1,000 paintings and has shipped his creations across the world.
Own Your Own O'Hara
You can visit Chris's newly opened Gallery and Studio Space in Naas, County Kildare, and also his Gallery located in The 1933 Furniture Company, Navan. chrisoharaart.com