As we spend more time at home, and in turn, make sure they offer a space that we enjoy spending time in, it's never been more important to invest in our surroundings and pieces that bring us joy and this is what art can do.
Here we highlight five female Irish artists whose work would certainly make a welcome addition in any home.
Mary Claire Kirwan
An Irish artist based in London, Mary Claire Kirwan previously forged a successful career in the fashion industry until a painful accident redirected her life. As she explains, 'I grew up in a small village in Wexford and following my graduation from Limerick School of Art and Design, I moved to London to start my fashion career.'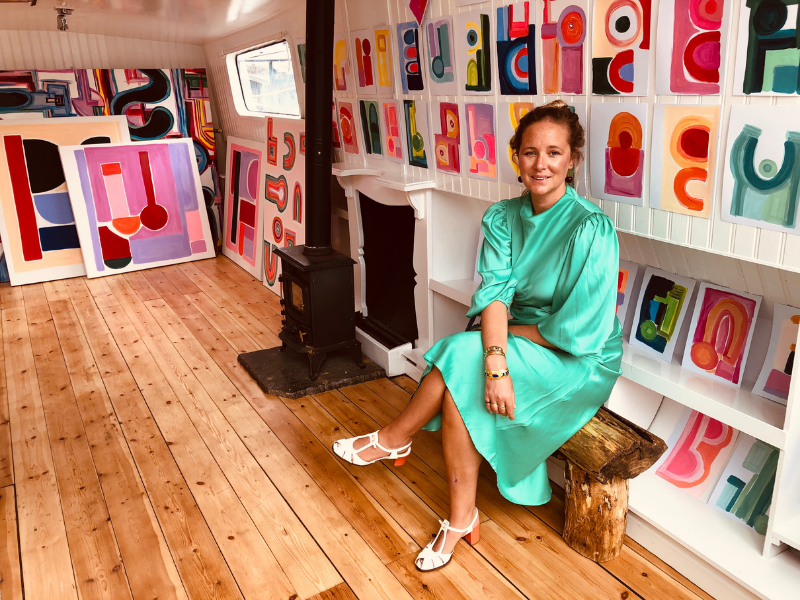 'I love London and the opportunities it presented. I became Creative Director for a high street fashion brand, met and married the love of my life and would travel the world at the drop of a hat. I was living a busy, hectic ,yet extremely exciting and rewarding life. However, last year, in 2019, my life came to a sudden halt. I suffered a painful and traumatic back injury whilst surfing in India. What prevailed was a year of chronic pain, panic attacks, anxiety and departure from a job and lifestyle I had worked my adult life to achieve. My identity was completely lost, my passion for the fashion world had evaporated with the loss of my physical and mental health.' Late last summer, under guidance from her therapist to address her chronic pain, Mary Claire started to paint for pain relief. The challenge was to rewire her brain away from pain, to a place of harmony. So, what started out as watercolours for close family has now become a full time passion and career, with Mary Claire now painting from her private boat studio on the River Thames. As she comments, 'I'm attracted to basic shapes and working blocks of bright colours to engage the eyes. The simplicity of shape and colour is never ending and offers me amazing freedom.
View this post on Instagram
My recent collection of work has been inspired and named in regards to theme of wellbeing and the journey of change. I create quite fast. I leave it for a week or so and then look at the work with fresh eyes. I'm always working on five or six pieces at any one time.' Mary Claire goes on to say, 'It's a really personal journey to get a painting to completion. Recently, my best work has been from my subconscious when I haven't been thinking about the end goal, that's why my motto when I'm in my studio is 'joy in the journey', it helps keep my focus on the now and the creation process, rather than the reality of being a commercial artist.' As for the future, Mary Claire has lots of ideas of how to take her style into spaces and environments. 'I really do want to engage audience through colour and shapes In the forthcoming years and I also love ceramics and rug making, so have started to work on some pieces to launch in 2021.'
See and shop Mary Claire's work at maryclairekirwan.com. Original works start from £900. Prints start from £150.
Paloma King
Artist, Paloma King, works in a converted linen mill in Belfast alongside many other creatives. She has been painting almost full time for 20 years since graduating in Fine Art from the University of Ulster.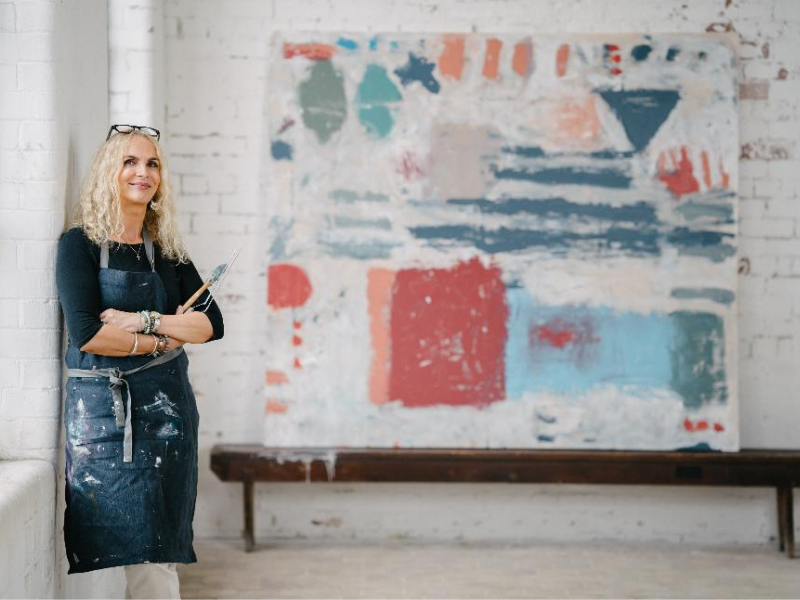 Prior to this, Paloma worked in the fashion industry, a time when she enjoyed the opportunity to explore some of the world's finest art works through regular travel. Initially painting in a realistic style, she became increasingly interested in capturing the invisible forces that shape us – and the world around us. 'I have always loved the look of hand written notes and little doodles that people do when they think no one is looking, bits of words or things we wish we had said, lines of poetry and names of people we love. I am also drawn to ancient artwork in caves and symbols carved on stone left to us from ancient civilisations. I love the look of music scores, written and scribbled on in passion, marks which you will often find reflected in my work.'
View this post on Instagram
Paloma also has a passionate interest in cosmology, which deeply informs her sense of wonder at the world. 'While protons are unaware of the beauty emerging from them, from their tendency to be drawn together, that very tendency enables the birth of something as beautifully structured as a star. I don't expect people to look at my paintings and think about the meaning of life, but do hope that they touch people's hearts. That they inspire connection to a part of themselves not easily articulated, a part often left unsaid or unknown. That tender place that their heart really beats for. My painting process is at times slow. The surface is made of many layers applied and scraped off repeatedly until I am satisfied. It is often as if the painting has a life of its own, almost painting itself at times. In the moment, I am highly concentrated, with a profound sense of composition, structure, dynamism and the painting's vibrational energy, yet rarely see the final form until it is made. Most of the time I don't decide I'm going to paint a certain image and then create it, instead each piece evolves organically.'
See more of Paloma's work at palomaking.co.uk. Original large-scale works start from £4,950.
Audrey Hamilton
Pop artist Audrey Hamilton has had a love of art from a very young age. 'I grew up watching my mother take her oil paints to her canvas and hang them around our house.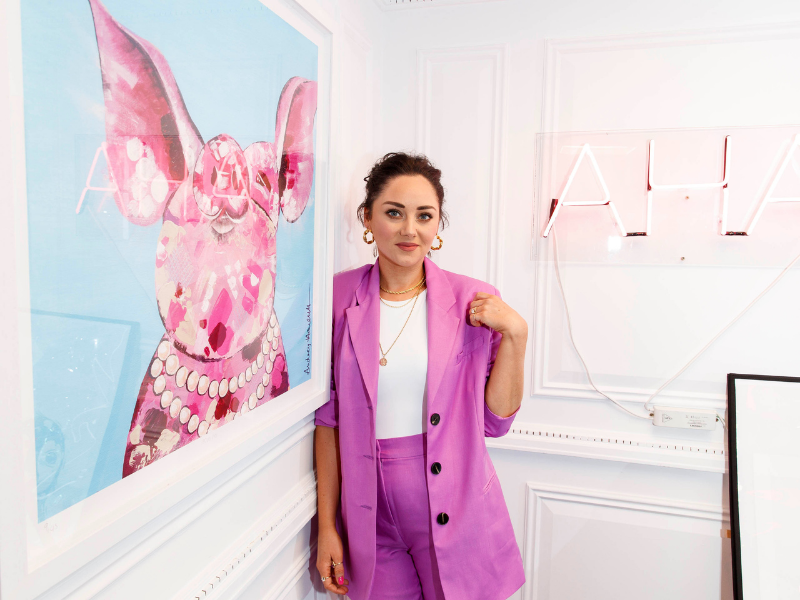 My parents have always encouraged my passion for creativity. Drawing, sketching and painting have been something I have turned to for escapism. From doodling on a napkin at a restaurant to finding a plank of wood in the back garden and turning it into an art piece to fill a space on our wall, I'm never far from creating something and getting my hands dirty,' explains Audrey. Painting was an enjoyable past time for Audrey until returning home to Dublin from LA and turning 30 saw it evolve into a full-time career. As she explains, 'I had been working as an actress for ten years in Ireland and my husband and I decided to head to LA, however, the whole experience of the industry over there wasn't for us and we moved back home to Dublin. At the same time I was approaching 30 and decided I wanted a different career and schooling myself in fine art, Audrey Hamilton Art (AHA) began.'
View this post on Instagram
Like her personality, Audrey's style of painting is both quirky and colourful. Her collections to date include Animals, Faces and Pop Art Shapes. 'I love animals and I had started painting my version of them while in LA and then one day I decided to turn my had to painting a face. I'm not a portrait artist, the faces aren't of anyone in particular. The first one I painted is called 'Her' and now there are a total of five different faces in this collection. This then led to experimenting with shapes and I've also painted two prints to help raise money for charity.' Audrey painted a Koala and sales of this print raised €20,000 in aid of the Australian bush fires last year and she hopes to raise money for Breast Cancer Ireland with her new work Femme. 'My best friend Georgie Crawford was diagnosed with breast cancer in 2017 and through her I have met so many great women and wanted to show them my support. Femme represents all of the different shapes and sizes that our breasts come in and 50% of sales will be donated to Breast Cancer Ireland, so I'm hoping to achieve the same success as I had with Koala.' Available from Copper House Gallery in Dublin, all of Audrey's fine art prints are limited edition and she has just launched her first online shop during lockdown. 'Social media is great tool for artists to get their work seen. Instagram has really helped me and the new online shop also opens everything up to a wider audience.'
See and shop Audrey's work at audreyhamiltonart.com and instagram.com/audreyhamiltonart Prints start from €65.
Aly Harte
Northern Irish artist Aly Harte lives and works in Belfast. As she comments, 'My studio is based near my home which is conducive to family life with my husband Michael, our three boys and dog Mimi.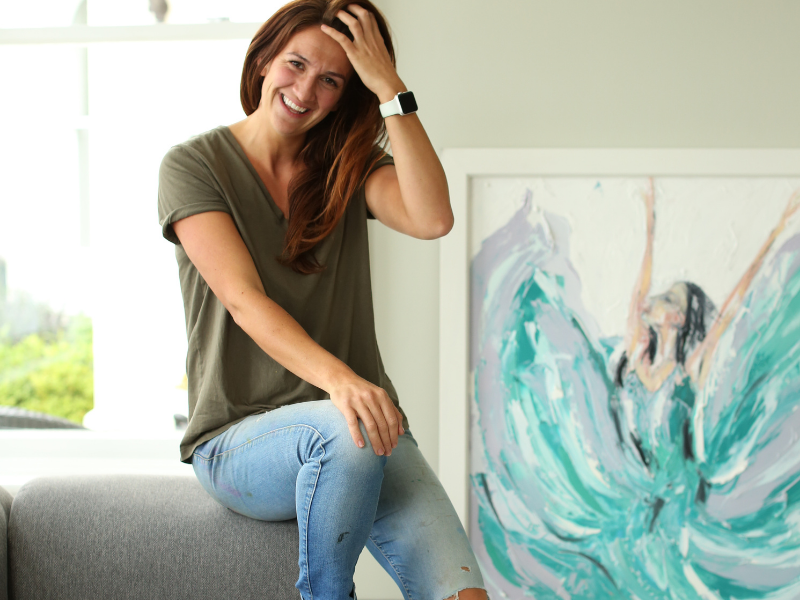 Aly's work is influenced heavily by her own childhood memories of growing up in a smallholding in the Irish countryside. 'My early childhood memories are filled with painting and drawing, mainly the dog as it ran across the yard and it was during my time at Ballynahinch High School that I realised I had a love for art. From this point all I have known is mark making and it was under the guidance of artist Neil Shawcross that my abilities were developed.' Aly was awarded a first class honours degree and a distinction in her Masters in Fine Art. 'During my degree and Masters in Fine Art my love for layered painting began,' she explains. 'This showed in the form of collages and thick paint marks.'
View this post on Instagram
Over time Aly's painting has evolved, but she still enjoys smooth lines mixed with paint applied using palette knives with the overriding theme of her work being 'placing importance on the everyday'. 'My art appeals to family homes where they discuss the content of the painting, nonetheless, keen art collectors and first time buyers enjoy my work in their homes and offices too.' Aly's work can be found in galleries such as Yard Gallery and InKlover and she has a wealth of artwork on her website.
See and shop Aly's work at alyharte.com and instagram.com/aly.harte. Print prices range from £12 to £240. Originals at £170 for a 7×5 canvas.
Louise Roberts
Based in Cork City, Louise Roberts went to art college at the age of 18 where she was immersed in a range of art and disciplines.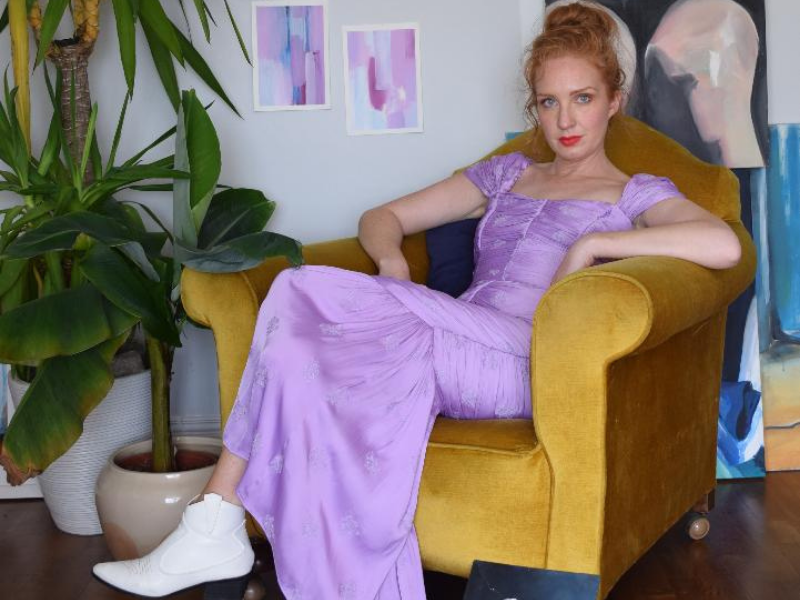 A year later, in Limerick School of Art and Design, Louise chose to focus her studies solely on painting. 'With a BA degree in Fine Art under my belt, I knew that art education was my calling. I became a secondary school art teacher and my personal work gradually took a back seat,' explains Louise. 'My students have become the number one priority and so for the past 10 years I have thrown myself into transferring my love and knowledge of art unto others. Having my own children however, has somewhat shaken me out of my own artistic paralysis! I have two beautiful, energetic boys, both under the age of four and in the last few years I find myself yearning for the space and time to create. I can feel that fire burn from within again and it's exciting.'
View this post on Instagram
Louise's inspiration comes from beautiful buildings and gardens, Georgian architecture, high ceilings and eclectic interiors. 'I fall asleep dreaming of how I would fill and curate these living spaces with textiles and décor,' she adds. 'What really sets my soul alight is rummaging through an antique or second hand shop. I'm deeply nostalgic. The older the object, the better. I have always been a collector of things, a scavenger at heart. My childhood love for natural objects and the land and sea has followed me into my 30's. My studio has shelves upon shelves of sea shells, dried flowers, animal skulls, feathers, and unusual stones. In the past few years I find myself particularly drawn to botanical subject matter.' Louise's early work was figurative and psychological with a nod towards the world of fashion. Now she creates semi-abstract paintings inspired by nature while drifting between the use of vibrant colours and quiet, soft and moody palettes. 'I'm currently working on a series of floral still-life paintings and have been playing about with moody abstract landscapes and soft calming seascapes with the obligatory splash of pink thrown into the mix! My work will appeal to those who wish to create beautiful spaces. Those with an empty wall that's in need of a focus or a pop of colour.
See and shop Louise's work at louiserobertsart.com and Instagram instagram.com/loulourua
Original works start from €250. Prints start from €60.