Interiors influencer and stylist Sara Austin shares her tips on how to create a perfect feature wall..
With over 15 years based in London as a designer and stylist in the fashion industry, Sara recently returned to Northern Ireland to renovate their period home. A passion for design has moved away from pretty 
dresses and sharp tailoring and evolved into life as an interior stylist and influencer. When posting her 
renovation experience on Instagram @six_by_the_sea, Sara is often asked for styling advice and one of the most common interior questions relates to artwork – how to choose it, frame it, hang it and create a feature wall.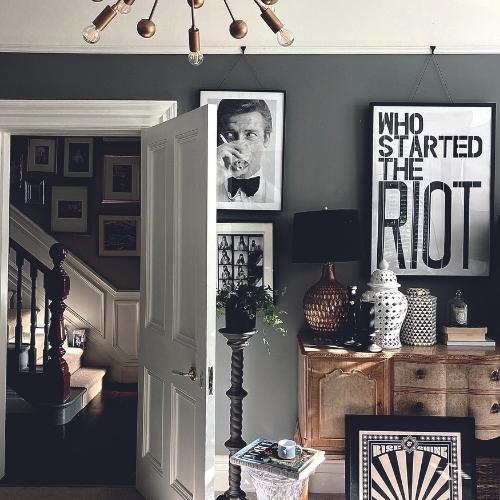 An introduction to gallery wall:
As a self-confessed art lover, Sara finds that art brings immediate personality and individuality to a room. No two feature walls are ever the same. Curating a personalised gallery is a fantastic way to use the walls of your home to tell your story. If you have a dull, blank corner, a feature wall will bring colour and drama abounds. Whatever your passion, whether vintage still life paintings, iconic black and white photography, dramatic neon signs, or even your children's exuberant nursery drawings, all can be carefully arranged to bring character and individuality to your space.
Choose and curate your art:
When looking for a vintage individual style, charity shops and online auctions are amazing. Places to look include Laganside Auctions (lagansideauctions.co.uk) and North Coast Auction Rooms (northcoastauctionrooms.com). When shopping vintage always keeps an open mind. Someone else's junk could very well be your much sought-after treasure. 
Online, iamfy.co is also a good place to look, offering reasonably priced ready-framed prints, taking the hassle out of mounting your own artistic choices. 
A favourite in our own home is the timeless archival prints lovingly curated by The Print Sisters Archive. These beautiful vintage textile prints have been restored and hand created by sister duo Alexia and Claudia. From May you can choose from their range of exclusive prints @REfound, On the Square Emporium, Belfast. 
Of course, there is no need to limit your feature wall to artwork alone. Let your creativity flow and include typography, wall sconces, and even mirrors. Vintage plates look fabulous collated in a kitchen, whilst pressed flowers in glass frames add femininity to a utilitarian space like 
a utility room. 
Whatever you choose, buy the ones that make your heart sing, and 
don't settle for something that 'just goes,' or the latest must-have item. Over time we have found that the pieces we had an instant 
connection with are those that have endured every house move, and still hang in pride of place.
All about the frames:
Ikea is the obvious destination for their range of off the shelf price- pointed framing options. With more budget, Habitat offers well-crafted Italian-made wooden frames that will last. Combining a mix of poster hangers with frames is a great way to keep costs down without dulling down aesthetics. This styling looks especially good in children's rooms. 
Custom framing can be expensive, so if you are looking for high-quality frames that won't break the bank, then go vintage. Spending a little time restoring a second-hand frame can bring character and texture to your project. Invest time in choosing the style of your frame, whether monochrome, antique gold or wooden finish. Evenly distribute the colouration and style of the frame to achieve a gently balanced look. 
If there is vast variety in your choice of artwork designs, choosing a similar frame throughout will bring some uniformity.
Planning the wall:
Often the best gallery walls prevail in underused spaces. If you have a room that lacks the focal point of an elaborate mantlepiece, then use a feature wall to add a wow factor. 
Equally, staircases make the most fabulous spot for a gallery wall. Creating a walk-through feature wall in your home will bring joy every time you pass. 
When planning your gallery, find a good open space and lay out your chosen finds. (Tip: I use our patio garden, Irish weather permitting!) As a rule, always start with the central or largest feature picture and work outwards. When you are happy, take reference photographs and spacing measurements, ready to transfer the design onto your walls. Alternatively, trace around your artwork to make paper templates. These can be positioned directly on the walls with removable tack and readjusted until your heart is content. 
Never feel pressure to complete the feature wall in one sitting. Often the best gallery walls evolve organically. Still, feeling stuck? Then find an arrangement that you love online, and do your best to mirror the design.
Fixing it to the walls:
Anyone following Sara's Instagram account will know she is a huge fan of picture rails. The Victorians must have known a thing or two about how to display art. I love the flexibility they offer in creating your own personalised gallery. If like me, you get bored quickly, art can easily be rearranged over time, as your style evolves. 
Without access to a picture rail, you may find that shelving becomes your new best friend. Layering varying scales of artwork on a shelf or peg rail creates an effortlessly styled vignette that can easily be updated. For relaxed, casual styling just prop a piece of art in an unexpected place, this immediately adds character and draws the eye in. 
Finally, remember that there are no rules – choose what you love and let your styling projects bring joy to your living space.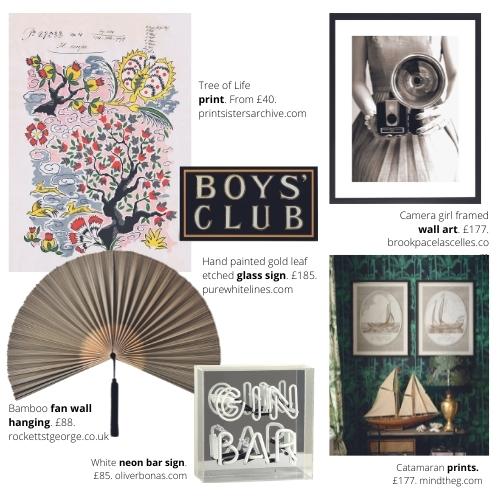 ---
Don't forget to share your gorgeous feature wall creations with us.