Interiors Association member Rosemarie Carroll of RCD Design offers her expert tips on how we can use the coast as interior inspiration.
Coastal interiors are on trend at the moment and people often 
want to create that look 
in their homes, no matter 
where they live. But, while it's 
perfectly possible to achieve 
that with fabrics and accessories, 
a coastal-style interior is always 
going to look superficial in an inland 
home. For me, the most authentic interiors take inspiration from the surrounding environment. A coastal interior always works best when it's actually near the sea. That said if you have a deep attachment to the sea, but live inland, consider bringing in small touches of coastal décor. In a recent renovation, I worked for a client who did a lot of sailing and wanted to be reminded 
of it, so we placed a model of a boat in the window. It brought in memory of the sea, and how important it was in her life, without trying to impose a coastal theme on the whole house.
If you're lucky enough to have a sea 
view, let it have the centre stage and 
work everything else around it. I recently designed a home in Dalkey where the kitchen window looked out over Dublin Bay. It didn't need coastal styling, the window said it all, but the colours in the seascape were reflected in the dark blue larder, plain white units and ceramic sink. It wasn't a large kitchen and the layout was inspired 
by the way that storage is managed on a boat. When you're on a boat, space is very confined. Storage is very important but limited. Everything has to fit, without taking up too much space, and it has to close away. We've actually used brass cup handles like those you'd find on a boat. So the whole concept came from the sea, but the styling was minimal and subtle. In coastal homes, I often like to use an engineered oak floor, which adds character and texture in an unobtrusive way. If the budget is limited, 
oak floor laminate looks the part and is easy to clean. In other areas, where you might consider carpet, seagrass or jute flooring comes into its own. It's not a strong feature but it adds to the texture of the ensemble.
Not every coastal home will have a sea view – fishermen's cottages tend not to look out to sea – but they will still have 
the quality of light that you only get 
beside the sea. If the windows are small, use mirrors to reflect the light around the room. Round convex mirrors can create 
the effect of a ship's porthole. Salvaged portholes can be hard to find but the brass and aluminium surround make wonderful frames for mirrors. Light fittings upcycled from navigational lighting also offer a subtle and effective way of creating a maritime atmosphere. But keep it simple. The space has to be right and the light has to be right to pull it all together.
One of the biggest problems with coastal 
interiors is that people have too much stuff. Coastal interiors are meant to be simple 
and clutter absolutely kills the style. A room that is full of objects and design features 
will be confusing and not at all restful. Too much colour or too many different colours will destroy harmony. I always find that panelling works well in a coastal interior, and you can always add hidden storage behind it.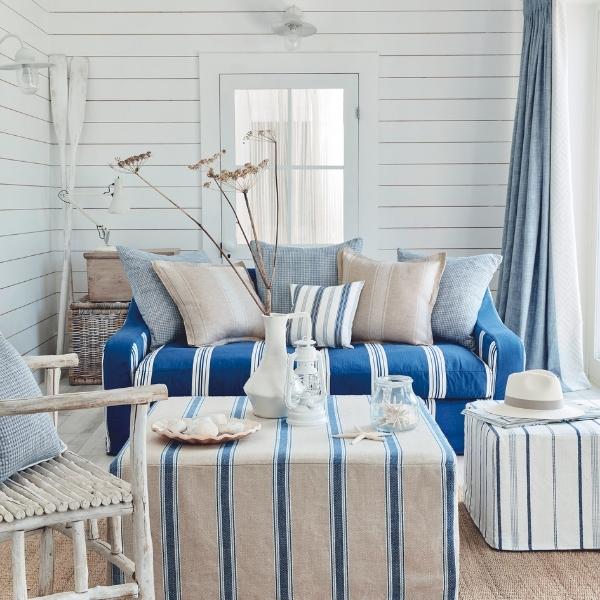 Once you have all the basics in place, 
the décor should be easy. White walls 
are traditional, combined with natural unvarnished wood and basketry. Then, bring in a little pattern and texture to 
break things up a bit and make them more interesting. Netting, which is reminiscent of fishing nets, can be very effective, but don't just put it in for the sake of it. A hammock in a child's room would be lovely if there was enough space, or on a patio by the door. Plain white voile curtains are atmospheric and offer privacy, and you can hardly go 
wrong with blue and white stripes on the bedlinen, with variations on the same theme for cushions and curtains. I like to shop around for patterned and striped fabric when considering soft furnishings for 
a coastal home. Stripes aren't for everyone, though. One of my clients was renovating her seaside home and she found them too obvious, opting instead to move towards a more sophisticated and luxurious interpretation of a coastal style using colour and texture alone.
---
Professional, qualified members of the Interiors Association offer everything from one-off consultations to fully bespoke design schemes for every style and budget. For more information visit theinteriorsassociation.ie