Join us as we celebrate 60 years of iconic furniture designs from Roche Bobois.
Luxury interiors brand Roche Bobois has been leading the way in furniture design and retail for decades and this year is proudly celebrating their 60th anniversary. First opening in Paris in 1960, Roche Bobois now has more than 300 showrooms in 54 countries around the world including their flagship Dublin showroom 14 years ago, which can be found in the Beacon South Quarter.
Dorothy Power opened the Dublin Showroom and successfully grew the brand here in Ireland, however, Dorothy, who retires this month, has recently handed over the reins to new Showroom Manager Jo-Ann Wall who has worked with Roche Bobois for nine years. Jo-Ann specialises in working with customers and interior designers on projects right through from initial spatial planning to completion.
'I love meeting and working with designers and clients. To be involved in the process of choosing the pieces and finishes that perfectly fit each project, seeing the end result and knowing that you were, in some way, a part of achieving it is a great feeling,' adds Jo-Ann.
For anyone unfamiliar with the brand, sophistication, glamour and quality sum them up. All of their collections are created by big name designers and emerging talents as well as collaborations with haute couture fashion houses such as Jean Paul Gaultier, Missoni Home, Kenzo Takada and Christian Lacroix Maison.
Roche Bobois are not interested in fleeting trends, their pieces are made to last. Each item has its own unique personality combining the talent, boldness and inventiveness of a designer with the style and creativity of the owner due to the high level of customisation on offer. Choice is offered on shapes, colours, leather, wood and finishes so each item is unique, exclusive and truly designed for the owner.
In a bid to reduce the environmental impact of their production as much as possible they are slowing down the speed of new projects, reducing the number of new collections and prioritising the re-interpretation of existing pieces which have become design classics. roche-bobois.com 
What's New For 2020?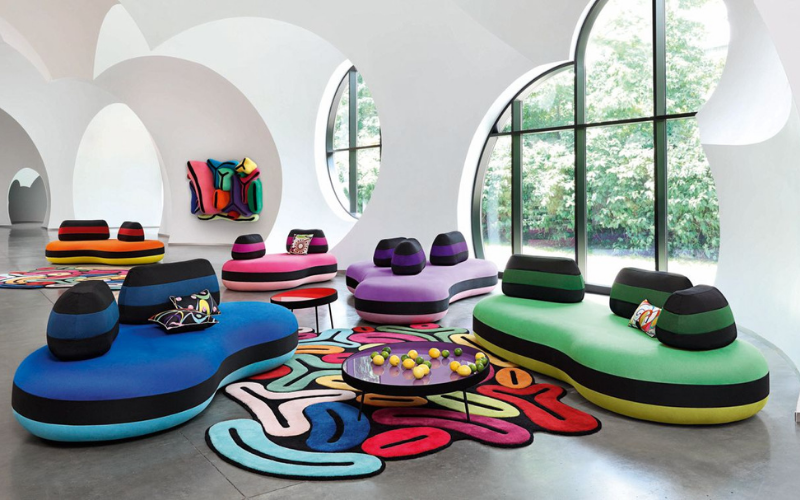 To celebrate its 60th anniversary Roche Bobois commissioned renowned Portuguese artist Joana Vasconcelos to design the flagship collection of the year. The 'Bombom' collection is Roche Bobois' second collaboration with Joana, who also worked with the brand in 2019 when she reinterpreted six iconic Roche Bobois pieces – the Mah Jong sofa, Ava chair, Lady B chair, the Nuage chair and the Sismic and Cute Cut tables.
The Bombom collection includes a series of sofas with fluid, organic and generous shapes that can be composed and combined according to the customer's wishes. The colours reflect Joana's optimism and creativity – direct, fresh, tart and deep shades are united yet outlined by the black stripes. The backs are all mobile and independent allowing free form for each sofa. These pieces give full freedom to customers to design their own comfort either sitting or lying down. 'I designed these pieces with the hope that people would make them theirs, play with them, while preserving the importance of comfort and a sense of flavour and joie de vivre,' says Joana. Four rug designs and a series of cushions based on Joana's original drawings complete this creative, flamboyant furniture collection.
Iconic Seating
It's hard to believe the iconic Mah Jong modular seating was first introduced to Roche Bobois back in 1971. Designer Hans Hopfer's innovative and uncomplicated approach to comfort has had a profound effect on interior design and has become the signature product of Roche Bobois.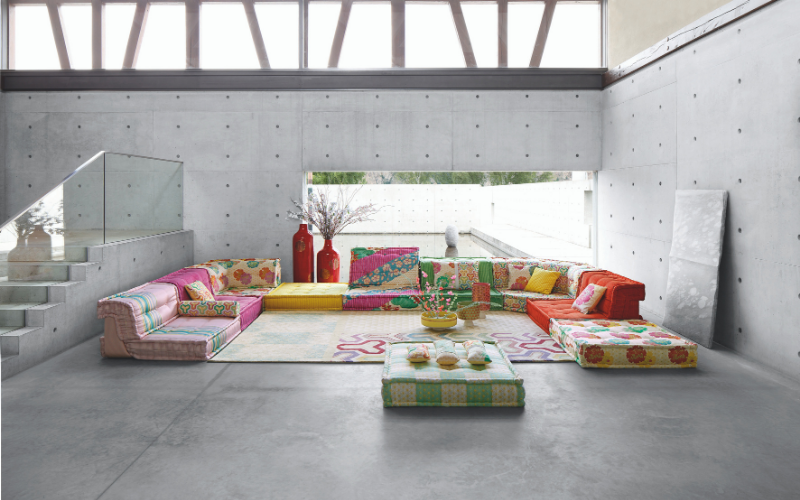 The cleverly designed modular seating means you can have endless combinations – a corner sofa, straight sofa, armchair, bench seat or day bed. Each cushion is handmade in a dedicated workshop by highly skilled artisans using the same methods as a haute couture design studio. But, the most striking aspect of the Mah Jong is the combination of patterns on the fabric, they add great colour and a real wow factor to a room. Over the decades Roche Bobois has teamed up with various fashion houses to create beautiful fabrics for the Mah Jong including Missoni, Jean Paul Gaultier and Kenzo Takada. These are real style statements for any interior.
For all the latest interior trends and helpful home tips, why not follow us on INSTAGRAM!