It's time to get off the grid and see all that Ireland has to offer with the help of the new lifestyle brand Seaweed & Saltwater offering premium campervan hire for the perfect road trip.
Inspired by their passion for sea swimming and the natural beauty of the Beara Peninsula, brothers Naoise and Cillian Barry have established the lifestyle brand Seaweed & Saltwater and are 
currently offering premium campervan hire with the idyllic architect-designed, energy-conscious coastal retreats on Beara coming soon. 
While these beautiful boltholes are in the making, the brothers have launched a fleet of custom-built, high-end Mercedes campervans for adventuring off-grid.
Van Life
Inspired by those they had used to travel around parts of Europe and America, Naoise and Cillian recognised a gap in the market for the same high-quality campervans here in Ireland. 
as Naoise comments, 'Cillian and I both like to travel. We don't like to be tied to campsites and having gotten used to the campervan offering in other parts of the world we felt that there would be others like us so we decided to convert Mercedes Sprinter vans into top-of-the-range adventure vehicles that comfortably seat and sleep four people. 
'The Americans do the best Mercedes campervans and we took inspiration from the sleek high-end interiors and accessories that they provide. We wanted to create unique custom-built vans that are equipped with everything required for an adventurous and 
luxurious road trip in Ireland,' adds Naoise. 
Using a large lithium-ion battery and solar panels, the van 
enables the occupants to live off-grid for up to a week and the powerful heating system makes the van suitable for year-round use. It's also fitted with a Wifi hotspot providing fast 4G for working remotely or streaming content and a rack for bikes and a kayak.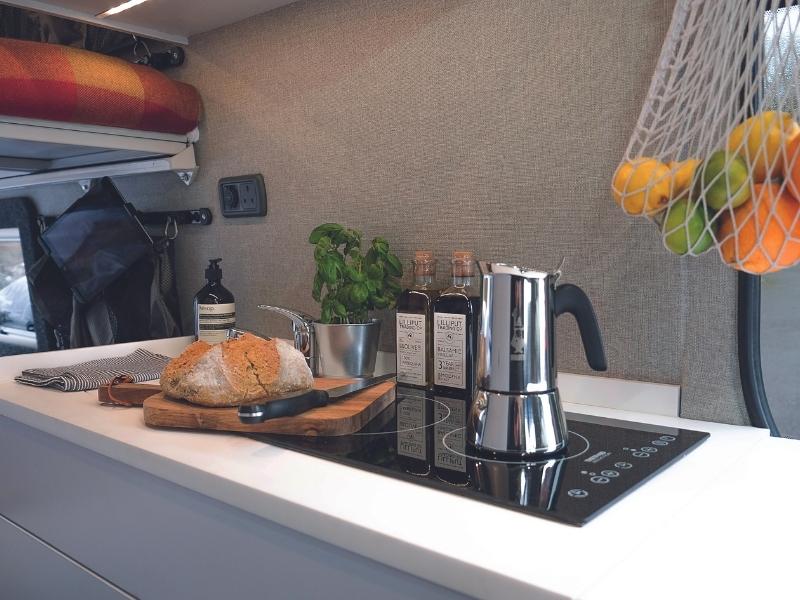 The vans are pet-friendly, well-insulated with a high-end heating system too and include a toilet, hot indoor shower (many other campervans don't offer the luxury of a full indoor shower!) and an outdoor one too, induction hob, microwave and quality kitchenware including Le Creuset kettle and Falcon Enamelware. A cooler box by Yeti and firepit are also provided and occupants can enjoy sleeping in two comfy double beds with Egyptian cotton bedding and hypoallergenic duvets from The White Company along with McNutt throws from Donegal and cashmere hot water bottles from Ekotree Cashmere Knitwear in Doolin.
Supporting Local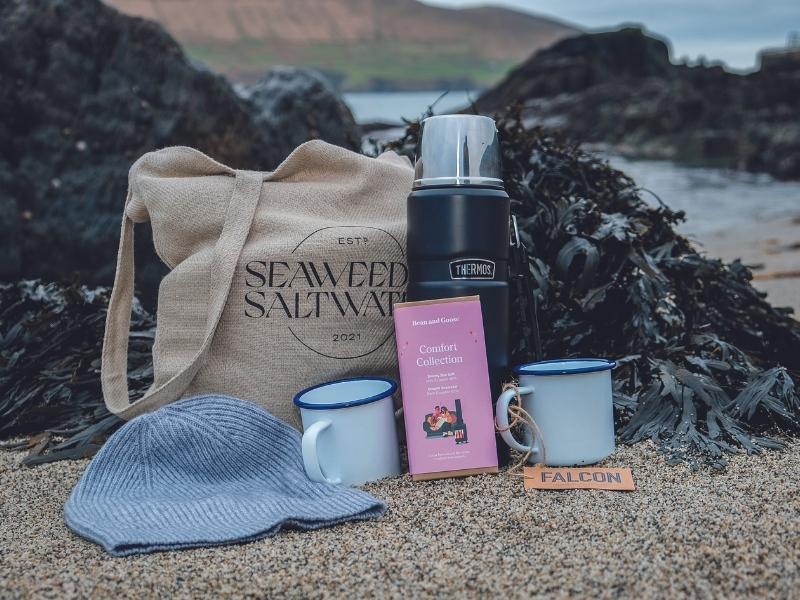 When searching the Beara peninsula for coastal cottages to restore, Naoise and Cillian came across local makers who they have worked with for the interiors of the campervans and will do so for the holiday homes currently in the pipeline. As Naoise explains, 'Wanting to share the work of the Irish makers and crafters that we have come across and who we have collaborated with, we also curated a range of gift sets featuring simple luxuries and accessories for sea swimmers. There are five sets in total and each box comes with a linen tote bag by McNutt of Donegal. items include cashmere beanies and cashmere hot water bottles from Ekotree in Doolin, Voya toiletries from Sligo, Bean & goose chocolate from Wexford, Falcon enamel mugs and Zone 3 sea swimmer accessories.
For Hire
While anyone can hire the vans, there is the option of joining the 
Van Club, which works like the traditional timeshare concept. Club members have access to the van for up to four weeks during the year with the benefit of all of the extras thrown in including bikes, bedding and BBQ. it's perfect for anyone who cannot commit to buying their own campervan. 
'We have already rented our first van to people on honeymoon, competing in triathlons, attending music festivals, as well as professional nature photographers and even fly fishermen,' says Naoise. 
'We can have the van set up for four with the two double beds, which are laid out in a bunk bed style. Alternatively, if the hire is for two then we can remove the upper bunk. There is also the option to have the van 'fully loaded with food and drink requirements purchased for your trip too.' 
prices for the Seaweed & Saltwater campervan start from €200 per day and pick-up and drop-off is from South Dublin and there is secure car parking for clients' cars. For booking and more information visit seaweedandsaltwater.com