Carrie Neely from Art Loves in Belfast talks to us about the services they offer and how they're able to help homeowners who often feel daunted at the prospect of buying and displaying artwork.
In the same way an interior designer will bring their expertise when it comes to selecting the paint colours, fabrics and furnishings, an art consultant will ensure you get the pieces you love for the walls of your home. Based in Ballyhackamore in Belfast, gallery and art consultancy Art Loves is headed up by Carrie Neely and her experienced team of five. As Carrie explains, 'I should say first of all that we are very approachable and no way exclusive. Yes, we sell artwork by Banksy, Hockney and Warhol but we also showcase a lot of very talented local and international artists as well as our own brands which include affordable prints and home accessories.
'When it comes to someone's home, we find that a lot of people don't know where to go or how to start. Many homeowners move in, decorate, and then find themselves a few years down the line still staring at blank walls. This is where we can help.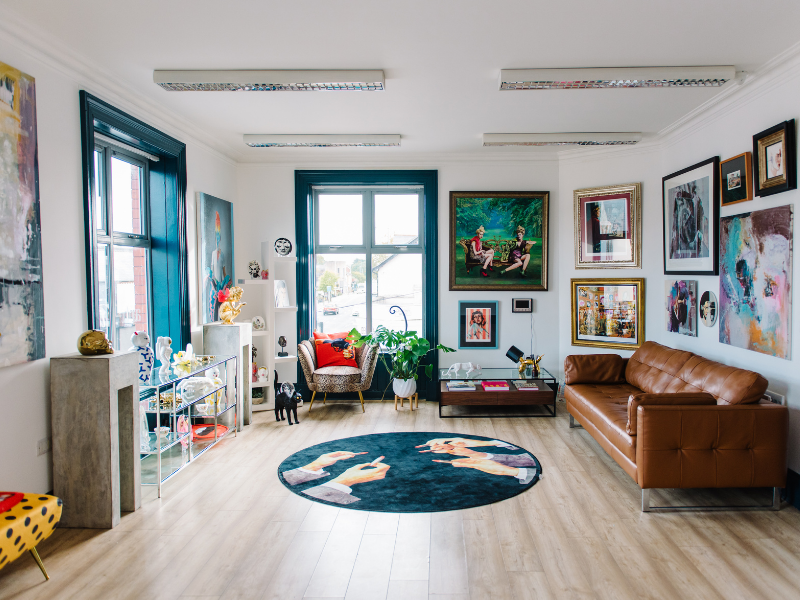 'We start by asking clients what style of art or artists they like, we will ask for photos or make a home visit, where we look at their existing artwork, interior design influences, and colour schemes before measuring up.  We can do everything from there, including sourcing or commissioning the artwork, framing and hanging. We can provide a top to bottom service or commission that one special piece to hang above the mantlepiece or fit an awkwardly sized space within their home.
'We source artwork from all over the world, not just paintings, we also source ceramics, 3D wall art, prints, sculptures, etc. Art is so subjective; everyone has different tastes and it's such a personal thing. A private client has to truly love a piece of art as they will look at it every day. From an initial consultation with me, I am quick to gain an understanding for the client's taste/requirements and we take it from there. The team and I will work to brief and budget, just as we do with our corporate clients and make sure we are delivering something really special for each individual.
For those homeowners who love a salon hang or as it is more widely known, a gallery wall, you'll be interested to know that one of Art Loves corporate clients was Farrier & Draper in Dublin. Here you will see their impressive salon hang, which has gained them much praise over the years.
'It must be five years ago that we worked on this, but to this day we still get complimented on it and because of it the salon hang has become our signature style in a way,' says Carrie.
'A salon hanging is not an easy thing to get right and many who have tried to recreate it based on what they've seen in Farrier & Draper have struggled,' adds Carrie. 'We sourced, framed, reframed and hung 300 pieces of art on a five-meter-high wall all within ten days. It was a massive task and to this day I'm still really proud of what everyone involved in this project achieved.'
'While this is an example of a commercial project, we have also completed salon hangs in residential homes. As well as sourcing suitable works of art for a salon hang, we can also work with existing artwork and use it to build upon, reframed pieces if needs be to make them all work together in a new layout.'
Carrie graduated with a BA Hons degree in Visual Communications from art college in Belfast in 1997, and she has recently started to channel her creative talent into a few new brands.
'I love the creativity and challenges of my consultancy work for corporate and private clients, but over lockdown, I had some time to stop and re-evaluate everything. I am normally so hectic, running a business, travelling and looking after my three children that creating work that is personal to me was the last thing on my list. Myrtle & Mary feels so utterly indulgent to me, I get lost when I am in their world, hours can go past without me noticing. I really love creating new artwork and products.'
A new luxury art, interiors and lifestyle brand, each piece of digital collage artwork Carrie creates for Mary & Myrtle introduces a new character, and each character has a colourful story to tell. Myrtle & Mary are the names of Carrie's deceased grandmothers, and she loves to think of them creating their own kind of heaven, wherever they are. Each character is based on a family member, a friend, or is the product of a personal memory or experience.
'Myrtle & Mary has really taken off,' says Carrie. 'We have worldwide orders every day and Art Republic have just taken on the brand.
As well as in-house brand Myrtle & Mary, Art Loves also produce a range of contemporary poster prints called Pop & Dot. 'I would design a lot of graphic art prints for our corporate clientele and with this style of becoming so popular with homeowners we decided to extend our offering and so began Pop & Dot which offers bespoke prints starting from £18. As well as seeing our readymade designs, these can also be made bespoke for anyone looking for certain colours, sizes and so on,' explains Carrie.
And if all of this wasn't enough to keep the team busy, Art Loves has another new venture offering Irish art prints and apparel. 'We designed some pieces before lockdown as limited editions, but they proved popular so we decided to turn them into a fun, affordable online brand called Bap & Scone.
As Carrie adds, 'We always had an online presence, but with everything this year has brought about, we have had to develop our online offering and we've also enjoyed diversifying and launching these new brands. We are currently working on our new e-commerce platform to help us bring all of these products and services to a larger and more accessible audience.
'Ever since I return home from London in 2008 and set up Carrie Neely Contemporary Art, which them became Art Loves in 2014, my business has grown and evolved organically. We do business all over the world, last year alone we had projects that took us to Paris, Venice, Berlin, Edinburgh, London, Cork, Dublin and of course, here in Belfast. With our new launches and a renewed sense of investment in art from homeowners who want to create an environment that brings them joy, we're looking forward to the year ahead.
Set Featured Pic Credit – L to R: Alice Passoni, Carrie Neely, Genna Bigger and Christine Trueman